You will receive the number of the error code and there is a need to restart the QuickBooks Database Server Manager. In this post, we have discussed the appropriate steps to restart QuickBooks Database Server Manager. The database server manager has been restarted on the desktop which is hosting your company files. When we install QuickBooks desktop, we have two options to install only QuickBooks Database Server Manager or the complete QB Desktop program.
In simple words, if the whole program is installed, QuickBooks Database Server Manager (QBDBSM) starts automatically by opening QuickBooks Desktop and you have to start QBDBSM manually if the entire QB program is not installed.
Important: If only the data manager is installed on your computer, you must have to go into Windows to start the QB database server manager.
When the QuickBooks Program is fully installed on the server or host:
In the server, open QuickBooks
Click on File tab, choose Open or Restore Company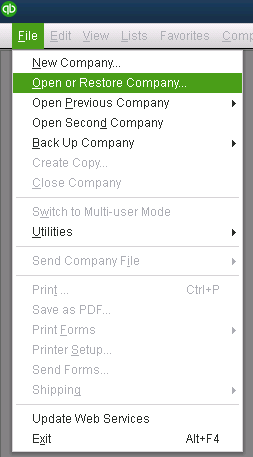 Choose Open a Company file
Click on Next
Find your company file and select the same
Select the Open file in Multi-user mode checkbox and then click on Open
Log in to the company file entering your admin credentials
Choose File and then choose to close Company/Log off so that the company file opened on the server should close.
Only if the QBDSM is installed on the server or host
Click on Windows and then choose Control Panel
Double-click on Administrative Tools
And then double-click on Services
Now, choose the right data manager:

QuickBooksDB28(QuickBooks 2018)
QuickBooksDB27(QuickBooks 2017)
QuickBooksDB26(QuickBooks 2016)

Finally Restart your system once
See Also: How to Fix QuickBooks error code 1606?
If the QuickBooks Database Manager is not responding or has stopped working:
Restart your server and then repeat the above-mentioned steps according to your setup.
When QuickBooks Database server manager is still not opening after restarting the server then follow the steps mentioned below:
We hope these quick steps mentioned above to restart QuickBooks Database Server Manager has helped you a lot in the same purpose and if not then feel free to seek help from our QuickBooks helpline number at +1-844-405-0907. We are Intuit certified ProAdvisor and we offer unmatchable and round-the-clock support services.
You might also see:
How to solve QuickBooks Error code OL-301?