QuickBooks Online is the most preferable accounting and bookkeeping software. But, sometimes due to mishandling of the users QuickBooks pops-up with errors when you try to import your banking and bank feeds and this needs to be resolved immediately. In this post we are going to discuss how to fix banking errors in QuickBooks. The reasons can vary, but majority of the banking errors faced by the users are solved by this method mentioned below. So, we recommend you to follow the steps mentioned below:-
Perform a manual update of the bank account from the Bank Feed
Confirm that you can login to your bank's website by utilizing the same URL you provided to connect your account to QuickBooks Online
Ensure that there are no changes required by your bank
The error may be temporary, just wait for a few minutes and then check your Bank Feed again
Perform the steps mentioned above in a sequence to resolve the online banking error in QuickBooks online (QBO). You generally have to follow the first and the second step to solve the issue but some issues may need you to complete the whole list.
You may also read: How to fix Qbwin.Log: Lvl_error Error: Verify Online Account Information: Invalid Customer Id Number?
Step 1: Perform a manual update on your bank account
Manual updates download any new transactions listed within the past 90 days in case if you skip days between updates then the download still gets the most present information when you connect to your account.
To perform a manual update:
Select Banking located on the left side.
Choose Update located on the Banking page.
If you only want to upgrade some accounts then choose the unwanted types to exclude the, from the update and then choose Update Now.
Blue shows that the account is chosen.
When asked then input your Multi-Factor Authentication (MFA) credentials and then select the Continue Update option.
You will be informed as soon as the update is completed and if it's successful, the date of the last update and total number of transactions depicted on the account card change.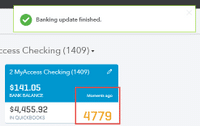 When updating an account manually then keep in mind that:
Many banks and credit card companies do not post transactions for the download until some hours or the next morning
You are sometimes able to see the processing transactions on your bank's website but they cannot be downloaded to QuickBooks until they are posted officially. If there are missing transactions in QuickBooks then we recommend you to wait at least 24 hours
If the error happens once more then implement the next step.
Step 2: Verify that you can log in to you bank's website
QuickBooks Online to connect to your bank account, the account should be accessible from the URL your bank provided for online banking. Some of the financial institutions use various logins for different types of account. Ensure that you are using the same URL in the QuickBooks Online.
Follow the steps mentioned below to verify that you connect to your bank and access your account using the link used in the QuickBooks Online.
Choose Banking from the left menu
Select Add Account on the Banking page
Find your financial institution and then choose from the list
Click the login URL for your bank's website posted at the top side of the window
Enter credentials i.e., bank Username and Password
Confirm that you are successful to access your account through this linked website. Log in and then confirm that you can see your account summary, history and details without any issue
Once you know that you can successfully connect to your bank's website then try to update from the Bank Feed again.
If the error happens once again then try the next step.
Step 3: Confirm that your bank do not need any change or actions
If you can successfully access your bank account on their website then look for any messages, notifications or alerts from your bank showing that something is not working on their side
Sometimes, a bank activates new security features which need you to take action before you can proceed. Something simple as updating your account password can hold an update in QuickBooks
Follow the commands from your bank and then try to update once more
If the error happens one more time then jump to the next step.
Step 4: Wait for some time and then try again
If you have implemented all the above steps then we recommend you to wait for at least a day to allow your bank time to fix any possible issues.
We hope that with the help of the steps mentioned above you have successfully fixed online banking error in QuickBooks Online. In case if you need any support then feel free to seek help from our QuickBooks online support number i.e. +1-844-405-0907.
You might also like:
How to Fix Banking Error 9995 in QuickBooks online?
How to solve QuickBooks online error 101?