What's .qbb file and why comes it's important to restore and how we can restore the QBB files? We can state that the QBB file is the backup of the QBW files. These QBW files store the mandatory data of the company. qbb file stores financial records, logos, letters, images and such important data is stored in the QBB files. Hence, restoring the recent file is very important for you as you have to run business which would less likely to handle without the help of required data. There is no reason that you have to lose the peace of mind as it is not a tough task to recover a QBB file in QuickBooks.
It is pretty simple to restore the QBB file in QuickBooks in any media like USB flash drive, local hard drive, Network drive or CD. In this post, we will discuss how you can restore a QBB file in QuickBooks.
Steps to Restoring a QBB (QuickBooks Backup) File
Follow the steps mentioned below to restore a .qbb file in QuickBooks-
Browse to the file which has to be restored. Generally, this is saved on your computer's hard disk, recordable CD, a USB drive or an external drive.
NOTE: Make sure that the removable media which has a backup of your file is inserted into the respective port.
Open the QuickBooks software
Use the drop-down File menu and then select "Open or Restore Company"
Select "Restore a backup copy" option
Now, click on "Next" button
Choose "Local Backup"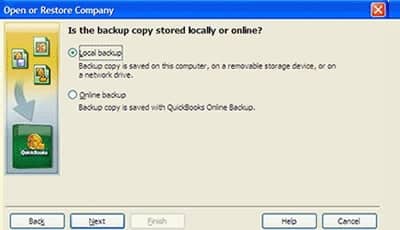 Click on "Next" button
Select the backup file (.qbb) which you wish to restore from "Open Backup Copy" window or simply use the "Look in" feature to navigate your file
Click on "Open"
Then, click on "Next" button
NOTE: In case if you are restoring a backup file from the removable media then you will definitely need to tell QuickBooks where to restore the file. By clicking on "Save In" arrow you can find the right folder to restore your data on your secondary storage device.
Click on Save In drop-down arrow if needed and then navigate to the location where you want to restore the backup file
Choose the backup file and then click on Save and reply to any message QuickBooks will display
See Also: How to Solve Login Problems of QuickBooks Online on Chrome?
I hope these steps mentioned above to restore the QBB file in QuickBooks has helped you a lot and if you think that you have any issues or problems while using QuickBooks then contact our QuickBooks Help & Support toll-free number at +1-844-405-0907. We provide round the clock service to our QuickBooks clients.
Other helpful articles:
How to Fix QuickBooks Error Code 6147, 0?