Learn how to fix QuickBooks EventID 4 – An Unexpected Error has Occurred in QuickBooks: Returning NULL QBWinInstance Handle
This article is related to troubleshooting of QuickBooks error "EventID 4 – An Unexpected Error has Occurred in QuickBooks: Returning NULL QBWinInstance Handle". As we know about it that QuickBooks is a best accounting software program that is widely used for small or large business entrepreneurs. This software has many advanced features which helps entrepreneurs to manage their accounting with ease.
However, few QB users deal with some error messages sometimes. In this blog, we are going to discuss about one of the most common error .i.e. 'QuickBooks EventID 4'. Let's review on this error and know the possible steps to solve this error.
Error Messages You May See on Your Desktop Screen:
Integration Manager could not connect to QuickBooks. Please make sure that it is open
Or
QuickBooks Event ID 4 – An unexpected error has occurred in "QuickBooks": Returning NULL QBWinInstance Handle

What Causes QuickBooks Event Log ID 4 Log Error 4?
Windows .NET Framework 4.0 SP 1 on a Windows 7 computer
Other windows components do not function properly
You can also read: How can I fix QuickBooks abort error?
Steps to Solve QuickBooks Event Log ID 4 Error
Below are few steps to resolve this error.
Solution 1: Reinstall .Net Framework on Windows

First of all you need to Press Windows + R keys together at same time. This will open the Run window on your system.
After that type appwiz.cpl in the Run dialog box.
Now Press Enter key, on your keyboard.
There is an option of to Add/Remove all programs, under the programs and featured list.
Locate and click on the Microsoft.NET Framework 3.5 or later versions.
Choose Uninstall option. (Note: This will take 1-2 minutes to uninstall the program).
Once the uninstall process completed restart your system once.
When restarts completed you have to repeat the step 1 to open the Run windows on your system.
Type Control Panel to open the control panel.
Now you will see the Add/Remove programs or Programs & Features window.
There is an option to Add or Remove Windows Features that is located on the left hand side of the windows.
Now click on Add or Remove Windows Features option.
From the list of the programs hit a click on Microsoft .NET Framework to expand.
Check-mark the first and second box.
Press OK.
(Note: Microsoft .NET Framework installation will start after clicking on the OK button)
Click on the finish button once and the whole task is over.
Once the installation will successfully complete for Microsoft .Net Framework 3.5, just restart your system and open QuickBooks Integration Manager once again.
Solution 2: Run QuickBooks Install Diagnostic Tool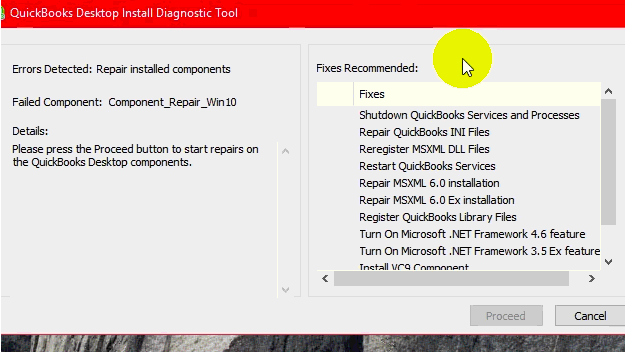 After that Install this tool on your system.
You need to follow the instructions as they given on your desktop screen while installing it to on your system.
Once the installation is completed, Exit all the running application on Windows.
Finally run the QuickBooks install diagnostic tool to repair your problems and restart your computer.
Solution 3: Run Quick Fix my program from tools hub program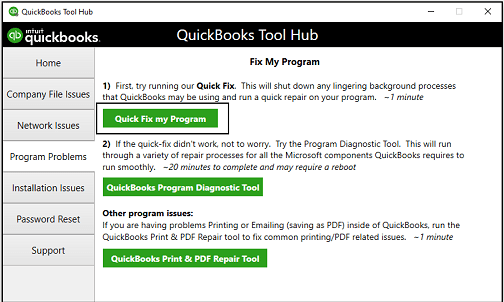 At first, the user needs to close the QuickBooks Desktop.
After that download the QuickBooks Tool Hub program.
Now run the downloaded file QuickBooksToolHub.exe.
Click on the agree to the terms and conditions option.
The user should then choose the Destination folder to install the tool hub
And click on Next button again.
After that, hit on the Install button to commence the installation process.
This will open the successful installation message on the screen
Double-click on the tool hub icon and launch the QuickBooks Tool Hub.
Move to Program Problems tab and go for the Quick Fix my Program option.
Let the tool spot the issue and perform the necessary steps
Wait for the process to complete
This will fix the issue
Solution 4: Reinstall QuickBooks using clean install tool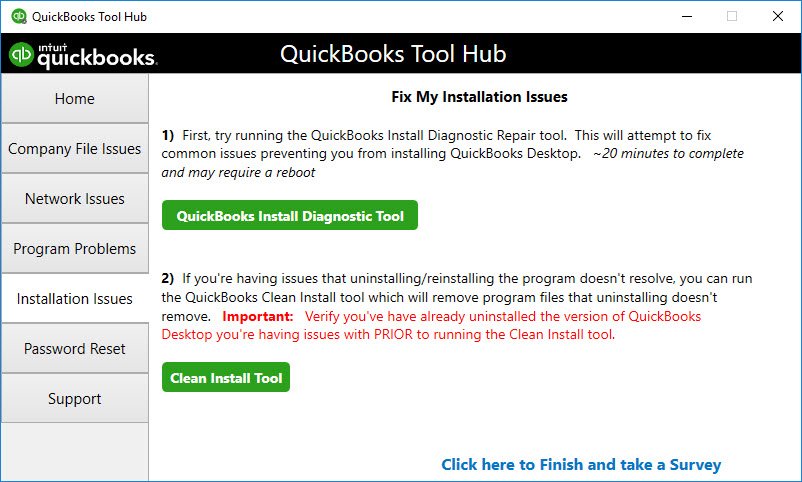 The very first step is to open the QuickBooks Tool Hub installed earlier.
And then go for the Installation issues tab and then head to the clean install tool.
The user should now click on I accept and choose the QuickBooks version currently using
And hit the Continue tab and OK button respectively
Read Also: How to Print Form 1099 and 1096 in QuickBooks Desktop?
Winding up!
I hope you may found this blog valuable and by following these steps you have successfully solved your QuickBooks event Log error 4. However, if you have any issue or queries, you can take expert's advice and immaculate services by dialing our QuickBooks error support number i.e. 1-844-405-0907. We are always ready to serve the flawless services that suits your business. Thanks for visit us. I hope to see you soon here for solving all your accounting related problems.
Related Article:
How to Fix QuickBooks Error Code 80029c4a?
How to Fix QuickBooks Error 6190 and 816?