As we all know that PayPal is a popular payment gateway application for millions of users around the globe use it almost every day. It is the best way to send or receive money nationally & even globally from clients, merchants, customers, and family members. But PayPal is important for the merchants who operate business or businesses overseas. It has been observed that PayPal have more than 100+ millions of active & registered user accounts. Moreover, it allows the users to send or receive payments in more than 200 currencies in 200 marketplaces worldwide.Lets Talk about paypal integration with QuickBooks how can we do it.
QuickBooks is a package of accounting services in the form of software & endows numerous other online solutions. This software can establish connectivity to integrate with tones of web-based applications. To know more insight about the PayPal integration with the QuickBooks, you can contact the QuickBooks Integration support team. In this article, we are going to discuss the PayPal integration with QuickBooks. PayPal has privileged users with easy, quick, and flexible payments mode.
How to Sync & Integrate PayPal with the QuickBooks Online?
There are many benefits of PayPal like pay with flexibility and it's quick and easy. Simply follow the step-by-step procedure to sync & integrate the PayPal with QuickBooks:
First of all, Open the 'QuickBooks Online' application.
Sign in the QuickBooks Online account.
Go to the "Apps" tab
Click on the "Apps" tab
Enter & search PayPal in the search bar.
Select the "PayPal" app
Choose the "Get App Now" button
Choose the 'QuickBooks Online company'
Click on the "Allow/Authorize" tab to connect the app with the QuickBooks
After doing above step and Once setup done, QB Sync with PayPal every 15 minute and also update new transaction from PayPal to QuickBooks Online. One more advantage, You will get everyday summery detail of integration.
Keep in mind: Not connect multiple PayPal account to your QuickBooks Online If connect, you will certainly not able to get information of sales transaction.
Procedure to Import the PayPal Transactions to QuickBooks Online
There are 3 simple & easy ways to import the PayPal transaction to QuickBooks:
With IFF or CSV file, the user can import the accounting product transactions to the QuickBooks.
Use the new PayPal API with drag & drop option. With the help of this new PayPal API, you can simply drag the information to QuickBooks from PayPal.
Use the PayPal Bank Feed machine to import transactions to QuickBooks swiftly.
Mapping and Settings
In the program settings, you will be required to edit or see the loan from PayPal to ensure it can be mapped to the correct account of QuickBooks Online. Smart mapping technology is chosen by default for categories so they can choose how to create PayPal account mapping using the QuickBooks Online. Advanced QB users can alter those settings with no difficulty in the entire setup.
Review your transactions after importing
You'll have the ability to assess your transactions as soon as they import by subsequent tabs at QuickBooks Online.
| | |
| --- | --- |
| Sales Transaction | Transactions > Sales |
| Expenses | Transactions > Expenses |
| Bank Transfers | Transactions > Chart of Accounts > Select your preferred bank account |
Once the installation process is done, QuickBooks Sync with PayPal in every 15 minute and update the new transaction from PayPal into QuickBooks Online. Also you will also receive a daily summary detail of integration process.
Also Read: How to Setup Intuit GoPayment?
Way to import PayPal Debit Card Transaction
In the beginning, sign in the QuickBooks Online account with correct username & password
Go to the "Apps" tab
"Allow/Authorize" to sync with PayPal app card.
Select the setting of the Sync with PayPal app card. A tab will appear.
In the App setting, select the "Edit" option
Make sure that the checkbox is marked for Include my PayPal Debit Card transactions when importing
The above steps will assist the user to sync & import the PayPal Debit Card transactions to QuickBooks automatically.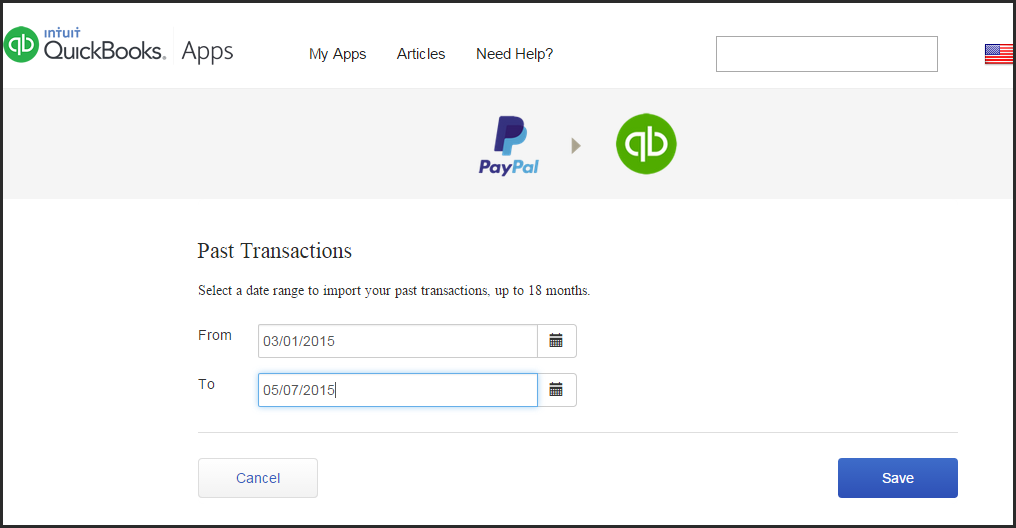 Boost the Cash flow & finances with QuickBooks and PayPal Integration
Get paid faster: Send the invoice from the QuickBooks & settle the payment through PayPal instantly
Save Time: Import the transaction data such as sales, expenses, discounts, fees, and GST via PayPal account.
Stay Organized: Update the PayPal sales invoices & manage the expenses in the QuickBooks Online.
In the last PCI compliant: At Intuit, we're here to guard your business and your customers.
Handle your Payments:- Manage your billings, invoices and settle for payments on the related to the QuickBooks mobile app.
Easily takes care of clients:- Faucet into over 200M plus active customer accounts exploitation PayPal to pay online.
You may also like: Ways to Connect your QuickBooks with PayPal Online
Winding Up
We regularly post how to's articles on all the versions of QuickBooks such as Pro, Premier, and Enterprise. If any QB users have problems related to QuickBooks Integration, they can contact the Intuit certified QuickBooks ProAdvisors at +1-844-405-0907. We assure the best QuickBooks solutions whether it's related to QuickBooks error codes, QuickBooks installation issues, or anything.
Topics you may like:
How to Register or Activate QuickBooks Desktop?
How to Fix QuickBooks Error Code 6189 and 816?
Steps to Fix QuickBooks Error Code 6123
Some FAQs Related to QuickBooks Error
What is the process for integrating PayPal with QuickBooks?
To integrate PayPal with QuickBooks, you'll need to connect your PayPal account to QuickBooks and then import your PayPal transactions into QuickBooks. This will allow you to see all of your PayPal sales and fees in QuickBooks, and to match and categorize them with your other financial data.
I'm having trouble integrating PayPal with QuickBooks, who can I call for help?
If you're having trouble integrating PayPal with QuickBooks, you can call our toll-free number for assistance: +1-844-405-0907. Our support team will be happy to help you troubleshoot any issues and get your integration up and running.
Can I still use QuickBooks if I don't have a PayPal account?
Yes, you can still use QuickBooks even if you don't have a PayPal account. QuickBooks is a standalone accounting software that can be used to manage your finances, create invoices, and track expenses. However, if you do use PayPal to process payments, integrating it with QuickBooks can help you keep your financial data organized and up-to-date.
Can I import my PayPal transactions into QuickBooks in real-time?
No, currently PayPal transactions are not imported into QuickBooks in real-time. However, you can set up automatic imports of your PayPal transactions into QuickBooks on a daily, weekly, or monthly basis. This will help you stay on top of your finances and avoid manual data entry.
What information do I need to get started with the PayPal integration for QuickBooks?
To get started with the PayPal integration for QuickBooks, you'll need the following information: your PayPal login credentials, the email address associated with your PayPal account, and your QuickBooks account information. You'll also need to have administrative access to your QuickBooks account in order to set up the integration. If you need help, you can always call our toll-free number for assistance: +1-844-405-0907.