Simple Steps to Register or Activate QuickBooks Desktop
As we all know that Intuit QuickBooks is a leading accounting and bookkeeping software that features important tools of state of the financial accounting technology. This software is incredibly user-friendly as you can experience being a business owners that average knowledge is enough to handle and manage this software to achieve organizational goals. But you have to make sure that QuickBooks installation, updates, and upgrades have been made appropriately on a regular interval of time.
In case, you have one or more than one copies of QuickBooks Desktop application then it is necessary that being a QB user, you activate or register each copy manually. We believe that this article would be helpful to you…! We have endowed few simple and easy steps to register or activate the QuickBooks desktop application once you installed it.
Important: Make sure that the Internet Explorer 11 with TLS 1.2 has been enabled in the Windows & Mac Operating Systems. You can notice that after May 31, 2018, to access the Intuit services all the connections in the QuickBooks must have these minimum system requirements.
Read Also: How to Setup QuickBooks Enterprise –Technical Support & Error Handling?
Important Points to Remember
Things you need to be taken care of:
Always confirm that the QuickBooks is ACTIVATED or NOT by pressing key "F2" OR "CTRL+1".
In case you see that QuickBooks is ACTIVATED then you are set. If not then jump to the activation.
If you get the error "The validation code is wrong" then confirm that:

Make sure that License and the Product number is correct. If in case the product number doesn't match the license number then change the product number first before moving forward with the activation.
The validation code is right.
How to Register or Activate QuickBooks Desktop?
QuickBooks Desktop for 2016 and Later Versions
QuickBooks Desktop For Windows Computers:
Once you successfully installed the QuickBooks software, you need to activate it before getting started. A screen will appear to activate the software. You can also activate it manually with the below given steps:
First of all, Open the QuickBooks and press the "F2" key on the keyboard.
After the 'Product Information' window will open where the user have to check for the registration status at the right-hand side of the 'License number'.
You are good to go if QuickBooks reads ACTIVATED.
In case, the QuickBooks is NOT ACTIVATED then follow the given steps below:

Select the "Ok" tab and it will close the 'Product Information' window.
Now, go to the "Help" menu and click on the "Activate QuickBooks" option (select Register QuickBooks for 2016).
Continue to follow the on-screen prompts and verify your details, and finish the activation process.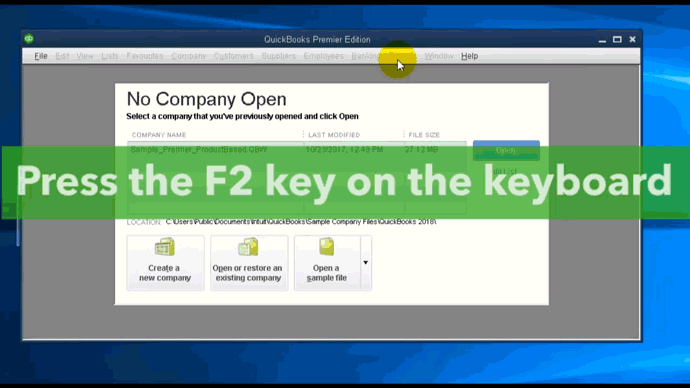 QuickBooks Desktop For Mac Computers:
Open the QuickBooks and go to the "menu" tab.
Select the "Register QuickBooks" option.
Type-in the "License Number" and "Product Number" in the information dialogue box, and then select the "Next" tab.
Choose the "Register Online" option.
Follow the on-screen prompts and complete the registration (in case the register option doesn't appear, it means the software is already registered).
For QuickBooks Desktop 2016 and Earlier Versions
Intuit has discontinued the older versions before to the 2016 version. However, discontinued products can't be registered for the first time.
The re-registering of discontinued items is possible if they were registered previously and their re-installation is going through. If you need a validation code, you can also contact us to receive it (Note: Charges applicable).
Note: The discontinued products are no longer provided any support.
Latest update for QuickBooks: QuickBooks Desktop 2023 Latest Release
Steps to Activate QuickBooks Desktop your Intuit Account
Well, the activation screen in QuickBooks usually offers an option to users to either activate using an existing Intuit account or further create a new one. In case you do not have an Intuit account, then make sure to fill in the necessary information to create user ID section and complete the activation process. Note that on the registration form that follows, the phone number and ZIP code are pre-filled depending upon the company file you had opened up.
If you go for creating an account, then continue to discover the message when opening QuickBooks. If you have an existing Intuit account, then enter the user ID and password to initiate the activation process. Perform the below steps to retrieve them:
Move to https://www.quickbooks.com/account
After that, click on I forgot my user ID and password link.
You now have to enter the registered email, phone number, or User ID.
Once done with that, provide the code received. And, now you will see the user ID and can reset the password.
The last step is to end the process and log in again.
Issues that occur with registering or activating QuickBooks Desktop
In case of the entered information is not being accepted, then you should check and ensure that the information entered is same you provided at the time of purchase.
If you face blank screen or error message or any other technical issue, you can try disabling (temporarily) your antivirus.
Read Also: How to Upgrade QuickBooks Software?
Winding Up!
I hope you found this article helpful to activate your QuickBooks desktop. However, if you face any difficulties while installing and registering this software then you can consult with our Intuit certified ProAdvisors team that can help you in your troubles. Still have any queries? Don't worry our QuickBooks support team is available 24*7 and can be reached at +1-800-360-4183. The professionals are highly experienced and capable to resolve all accounting issues in no time.
FAQs Related to Register or Activate QuickBooks
How do I register or activate QuickBooks Desktop?
In order to activate QuickBooks, you can perform the steps below:
1. At first, open QuickBooks
2. From help, you need to choose activate QuickBooks desktop.
3. Perform the onscreen steps to verify your info.
Do I need to register QuickBooks Desktop?
After installing QuickBooks successfully, you can activate the license by performing the steps. In case you license is not activated, then QuickBooks will prompt you to do so after installing the application on desktop.
Why do I have to register QuickBooks?
Registering Intuit QuickBooks accounting software will give you access to technical support and further keeps you updated by notifying you when new QuickBooks versions are available.
What is a QuickBooks license?
You can buy licenses in case you need more users to access a QuickBooks desktop company file at the same time. QuickBooks desktop premier lets 5 users to work in the same company file.
Related Articles
How to fix validation code is incorrect during QuickBooks activation?
Fix QuickBooks Desktop Activation Problems