Easy ways to keep your QuickBooks Desktop 2023 software to the latest and release date
Each year, QuickBooks releases its latest version with updated features and functionalities. As the year 2023 is around the corner, the new version QuickBooks desktop 2023 is already in the market. It was released in September 2022. The new update has a lot of new features for regular users, as well as accountants. To find out the information related to the features, cost and the license policy, make sure to stick around the piece of writing till the end or connect with our team professionals at +1(844)405-0907, and get assistance from experts and certified QuickBooks professionals.
Release Notes for QuickBooks Desktop 2023
Updating QuickBooks regularly enhances the experience and addresses various problems that can be experienced when working on QuickBooks. The new and improved features of QuickBooks are described in these release notes. In case you have enabled automatic updates, QuickBooks will download updates for you on its own. Whereas, if you want, you can manually check for updates at any moment. The release date for QuickBooks 2023 was:
Release date for QuickBooks Accountants Edition was September 6, 2022.
The general release date for QuickBooks Desktop 2023 was September 20, 2022.
Release 4_69 (R4_92) May 2023
Inventory Changes
You can use the categories in Add/edit multiple list entries and copy-paste from excel to onboard and alter item categories at scale.
Further, you can use the new welcome screen to explore the importance of categories.
Moreover, the category center has been renamed category list to sound more like the item list.
Web-connector changes
The consent screen now shows a new preference type, and this setting further disables the consent screen's unattended access option. This further gives the developers a choice to integrate the app and perform data synchronization when QuickBooks is operational.
Release 4_104 (R4_104)- April 2023
Payroll
With the help of Guideline 401(k), you can now offer 401(k) retirement benefits to employees directly from QuickBooks. Users of Enhanced & Assisted Payroll can access Guideline 401(k).
You can log in as the admin to QuickBooks and then sign in to the Intuit account, in order to access and register for the Guideline 401(k) retirement plan.
In this release, you will find updated discovery items and employee info pages to help you identify incomplete employee profiles and further learn the perks of comprehensive employee profiles.
You will find a redesigned employee center to make it easier to enter the essential data for employees.
Release 3 (R3)- October 2022
Inventory
You can make use of category list view to manage the inventories. Moreover, you can use categories when transferring multiple items, using find and select, or creating reports. Note that, Release 1 (R1) will no longer support the categories feature, and only R3 i.e., Release 3 and beyond will be compatible.
It is now possible to view the report on expiration status and filter by item lot expiration dates or serial numbers.
Intercompany transactions
When authorizing intercompany transactions, it is now possible to alter the default due-to-account.
Further, you can edit all fields on an intercompany general journal entry minus the amount and account.
You can further use the intercompany dashboard and reports' date-range filters.
Cash Flow Hub
The cash flow hub accounts now contain the direct connect banks which include multiple banks for tracking balances in one place.
1099 Changes
Note that, the year placement has been changed on the new 1099 NEC & MISC forms. Furthermore, according to the IRS rules, the FATCA filing box number and also the subsequent box numbers on the 1099 MISC form has also been changed.
View-only mode
You can now learn further about QuickBooks 2023 desktop's view-only mode after your membership has expired or been cancelled.
Money Transmission License Payments compliance
The processing of the online payments and the payment receipts are now MTL compliant. These receipts include the exclusive MTL features and disclosures such as the payment amount, total amount, date of transaction, auth code, and payment method
Issue Fixes
The inventory valuation summary report is now compatible with the software developer kit API.
Moreover, the price rule on an item with a sales price of $10,000 or more is now supported by invoices.
Furthermore, from the no company open screen shortcut, you can enter open a company file.
Pricing of QuickBooks desktop 2023
It is announced that there are no discounts on all desktop products on any medium. Below is a table sharing the complete QuickBooks Desktop 2023 pricing information.
| | |
| --- | --- |
| QuickBooks Desktop Products | Price |
| QuickBooks 2023 Desktop Pro Plus | $549 |
| QuickBooks 2023 Desktop Mac Plus | $549 |
| QuickBooks 2023 Desktop Premier Plus | $799 |
| QuickBooks Desktop Enterprise 23.0 | Price is unchanged for 2023 launch |
| QuickBooks 2023 ProAdvisor | Premier Bundle $799 |
| QuickBooks 2023 ProAdvisor | Enterprise Bundle $1299 |
Pricing for QuickBooks online version 2023
| | |
| --- | --- |
| QuickBooks Online Version Products | Price |
| QuickBooks Online Simple Start | $30/mo |
| QuickBooks Online Essentials | $55/mo |
| QuickBooks Online Plus | $85/mo |
| QuickBooks Online Advance | $200/mo |
| QuickBooks Online Multi-Company Package | Parent Entity-30% off current retail price. $20 for each additional file. |
Points to consider
According to the business size, one should choose the right product. In case the user is running an enterprise and wants to grow in future, choose the product accordingly.
QuickBooks Desktop is a full-fledged and efficiently designed software.
QuickBooks Online is used for the business purpose that needs to be streamlined
QuickBooks is perfect for all business sizes.
QuickBooks online is dynamic software that has a list of features and functions covering every aspect of accounting, bookkeeping and financial reporting of any size of business.
See also: QuickBooks Desktop Pro Update Errors
New and Improved Features of QuickBooks Desktop 2023 and Enterprise 23.0
Here are the new and improved features in the latest updates of QuickBooks desktop 2023 and enterprise 23.0.
Release 3 (R3)- October 2022
Inventory
1. The all-new category list view, manages your inventory. You can use categories in reports, find and select things when moving multiple items.
2. You can also view the most recent report on expiration status.
Intercompany transactions
1. The intercompany dashboard and reports now use date-range filters.
2. Moreover, for all the field amount and account edit an intercompany general journal entry.
3. When you approve intercompany transactions change defaults due-to-account.
Cash Flow Hub
The cash flow hub includes direct connect banks in the cash flow hub's all accounts section. You can add the number of banks, track balance in a single place now.
View-Only Mode
It is possible to learn about the QuickBooks desktop's view only mode after the subscription has expired.
1099 Changes
The year placement on the new 1099 NEC and MISC forms has now changed.
Money Transmission License Payments compliance
Once done with online payment processing, the payment receipts are now MTL compliant. You can now see features like payment amount, total amount, date of transaction, payment method, and auth code, on receipts.
Issue Fixes
1. The software developer kit API now actively works with the inventory valuation summary report.
2. Moreover, the price rule for an item with a sales price of $10,000 or more is supported on invoices now, which wasn't the case earlier.
3. The keyboard shortcut enters from the no company open screen, and is now opening a company file.
Features of QuickBooks Desktop 2023
The QuickBooks desktop plus 2023 contains the capabilities that can help you in improving decision making, efficacy, and productivity. Here are some quick features and functionalities included in QuickBooks desktop plus 2023:
Upgraded mileage tracker:
The vehicle mileage monitoring feature isn't a new feature introduced in QuickBooks desktop plus 2023, yet the users have access to track vehicle mileage. This can be accessed from the company menu. It should be noted that the mobile devices that support iOS have the ability to update track mileage.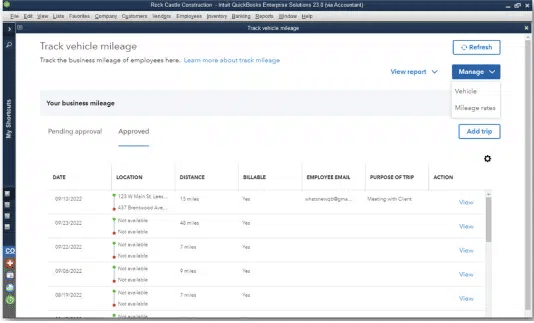 Also, a connection and login to an intuit accounts is required to access this feature. Only the users of QuickBooks desktop enterprise, pro plus, and premier plus can track mileage on mobile devices that support iOS. It further allows the user to easily record, monitor, and view company mileage in one location using a desktop computer or a mobile device.
New Cash Flow Hub
With this new feature, one can easily examine, manage and track the cash flow. The cash flow hub feature serves as the central hub and allows accessing the accounts being tracked. This further helps in tracking the available cash, and also controlling the money-in and money-out transactions. One can also check out the account balances, add accounts to the list of accounts being tracked, analyze the trends in the cash balances, monitor the performance of the cash flow hub over a certain time period, and also control past-due invoices and payments.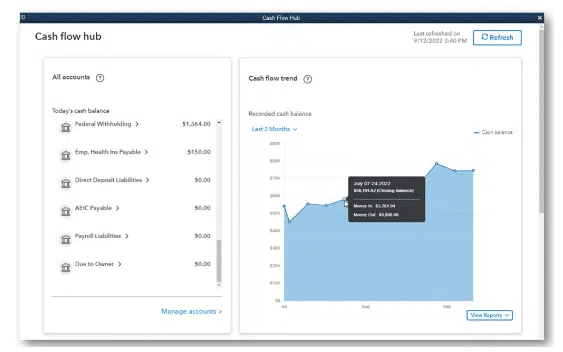 This feature is currently accessible to all 2023 desktop plus, enterprise, and accountant users in the US. The user can choose the cash flow hub from the company menu to access this feature and then click on manage the accounts to see the reports.
You may also see: Upgrade or Convert a New QuickBooks Desktop Version
Latest Node Card Reader:
Another feature is the latest node card reader. Well, this feature is accessible to QuickBooks desktop pro plus, premier plus, accountant plus 2023, and all editions of QuickBooks desktop enterprise 23.0 with an active QuickBooks payments account. This feature can be easily accessed by clicking on the pick customers tab and then heading to the received payment from the menu bar. With the help of this feature, the software supports a latest node card reader, which enables the user to access contactless cards, apple pay, google play, and a variety of other types of payment from the clients.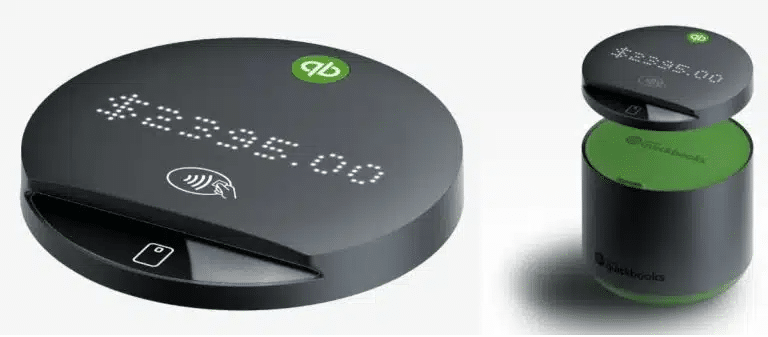 As the QuickBooks payments feature is integrated with QuickBooks, when the user starts using this new feature, the payments are instantly recorded and matched, which ensures that the books remain structured without any additional work.
Employment or Earnings Verification by Equifax: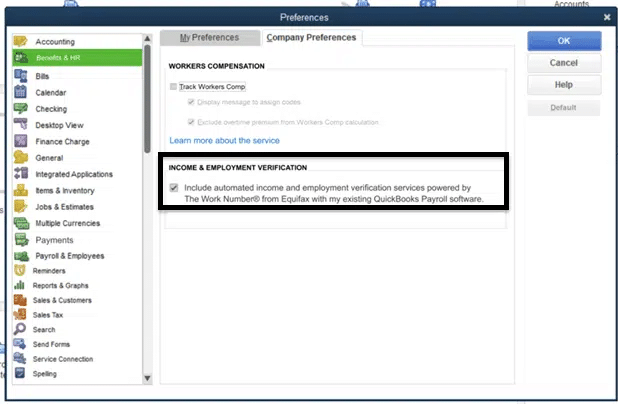 This new feature is offered by QuickBooks and Equifax combined to automate requests for verification of employment and income information for the users of active QuickBooks desktop payroll service user. This feature makes responding to information requests quicker and easier. The QuickBooks desktop preferences can now see a Benefits and HR tab. The company preferences tab will have a section titled income and employment verification.
Read also: How to Install and Setup QuickBooks Desktop?
Optimized Payment Links Tracking in QuickBooks Desktop 2023:
Coming to this feature, it is available for the QuickBooks Desktop Pro Plus, Premier Plus, Accountant Plus 2023, and all editions of Desktop Enterprise 23.0, having an active QuickBooks payments account. By sending a payment link, one can easily collect the money for purchases that do not require an invoice and also the new payments links dashboard lets you see the status. It is further helpful in getting the money without creating an invoice for initial consultations, advance deposits, and much more. Moreover, the new payment links dashboard allows keeping track of the progress of the request and issue reminders. You can simply send a link to your customers by text message or email them to make a payment.
HCM with 401(k) Guidelines-
The HCM with 401(k) guidelines feature is available for QuickBooks Desktop Pro Plus 2023, Premier Plus, Accountant Plus 2023, and all editions of Desktop Enterprise 23.0, with an active Assisted Payroll subscription. The user can simply start by adding a 401k payroll deduction and, if needed, the addition to the list of payroll items. The user will then have to head to the employees option and also choose the employee center from the menu bar to assign the 401 (k) items to particular employees.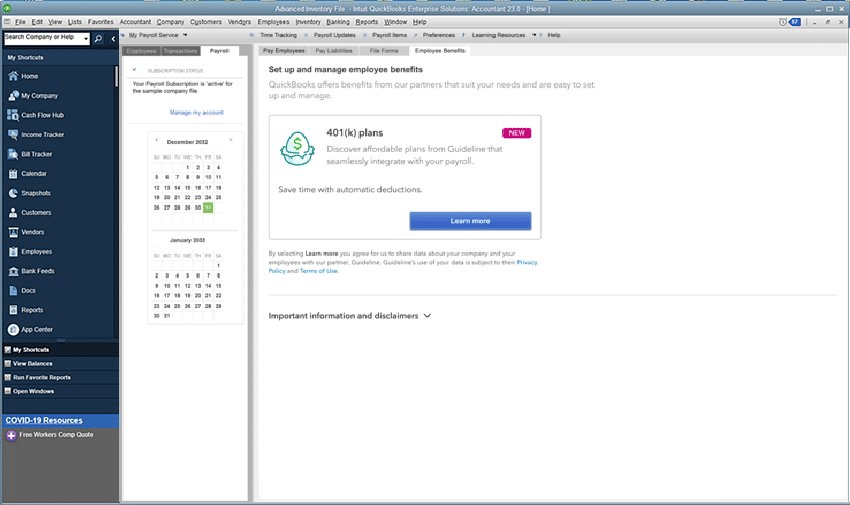 The employees will be largely benefited from the retirement programs and when the users have a subscription to QuickBooks desktop 2023 assisted payroll2, guideline and QuickBooks offers users fully integrated 401(k) plans. One can easily choose and set up a plan in QuickBooks Desktop that is suitable for their business and staff. Once they are set up and running aided payroll with their new contributions, there are no further actions to be taken, as the Guideline receives the information and contributions automatically.
You might also like: How to Update QuickBooks Desktop to Latest Release?
Process Clearances for Bills and Purchase Orders:
This feature is in QuickBooks Enterprise Accountant 23.0 and QuickBooks Desktop Enterprise (Platinum, Diamond) 23.0. The user needs to simply log in as the admin user to configure the approval process. After that, from the menu bar, go for Company and then choose Set up Approval Processes to access it. With the feature to approve purchase orders and bills in a single dashboard, one can easily maintain business supervision and aid in reducing fraud.
And with the bill and purchase order approval workflow, the user can easily delegate accounts payable and purchase order activities. Ongoing monitoring of approved transactions with automated audit trail information, such as the name of the approver, the creator's information, and any relevant comments automated prompt notifications to staff members can help in working before deadlines.
See also: How to Install Multiple QuickBooks Desktop Versions
Inventory Expiration Dates on Lot Numbers:
The inventory expiration dates on lot number feature are in the Enterprise Accountant 23.0 and QuickBooks Desktop Enterprise (Platinum, Diamond). One can access this feature by signing in as the admin user. After that choose the edit tab and preferences tab. After that choose the edit tab and preferences tab. Once done with that, the user needs to go for the Serial/Lot No. & Expiration tab after clicking the Advanced Inventory Settings button. Once enabled, the user can pick which items need a lot number and, if necessary, an expiration date.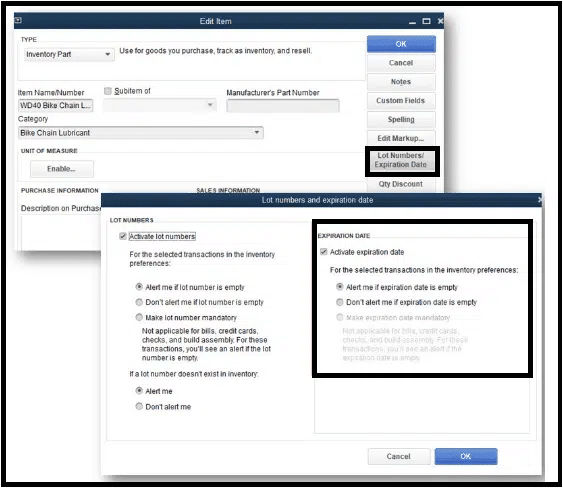 This feature offers thorough multi-level categorization and supports expiration dates, which might help the user in managing the inventory easily and successfully. And by assigning, the inventory expiration dates and putting them in transactions like sales orders, invoices, etc., the user can simply minimize business losses and sell goods quickly. Furthermore, by adding expiration dates in client interactions, the user can enjoy lower business liability. The user can also use the reports on inventory that has expired or is going to expire by lot or serial number, as well as a history of transactions, to take prompt action.
Read Also: install QuickBooks desktop on two computers?
Improved Report Optimization in QuickBooks Desktop 2023:
Users with large company files often face issues with the report compilation time with some of the more complicated reports in QuickBooks. This advanced feature will improve report compilation performance for bigger company file sizes (>300 MB). However, the reporting interface won't change, these reports load more quickly than they did in earlier versions of QuickBooks Desktop 2023.
Improved Accounting Software for Mac Plus 2023: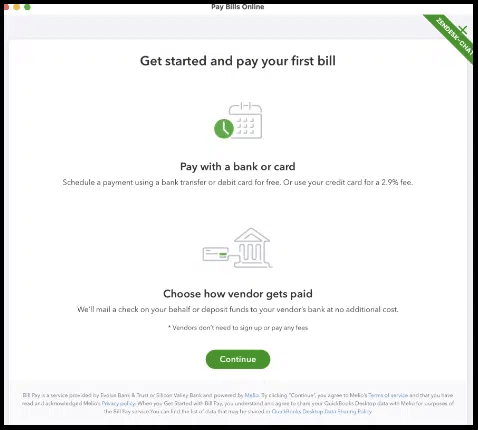 Moreover, you can mark the payment paid automatically and alert when the money is transferred, saving a lot of time. Once you pay the vendors using a card or bank transfer, you can simply increase financial flexibility by sending money via physical check or bank transfer. There are additional fees for paying with a credit card, using the optional Fast ACH and Fast Check expedites services, and other options.
Features of QuickBooks Desktop Mac Plus 2023
QuickBooks Desktop 2023 version was expected to enhance the user experience. This particular edition has rolled in with top-notch accounting attributes that will automate and simply the accounting activities. Here is a gist of features included in the QuickBooks Desktop Mac Plus 2023.
Online Bill Payment
You can now use QuickBooks and spend less time scheduling and paying bills. This will further indicate when the bill has been paid and notify you when the funds have been transferred. Transferring money via physical check or bank transfer will tend to give more financial flexibility when paying vendors with a card or bank transfer. Moreover, there are additional costs when using the optional fast ACH and Fast Check expedite services or when making a payment through credit card.
Upload Bills
In order to save time, automate the QuickBooks bill entry procedure, you can connect a shared macOS photos album to your company file. Any new receipt transactions will be pre-populated for review once they are added. You can further include files having bill transactions in your records, in order to maintain audit trails. This saves a lot of time by comparing imported receipt data to transactions that have already been completed.
Better Customer Management
You can maintain things by simply classifying the customers into different categories based on their types, statuses, locations, and balances. When you use customized reports that update on their own when the customer information changes, you will learn and understand things in a faster way. You can further effectively target and communicate with the customers by classifying them into various categories.
Synced Images
You can easily and swiftly add pictures of invoices, receipts, or other documents to the business file using the automated upload option from a shared photos album on macOS. This will need less manual filing which would make it easier for you to manage your audit trails and bookkeeping. You can automatically upload various files to the company file at once. Moreover, the invoices and receipts can be processed more easily and in a fast manner by directly uploading documents from a shared photos album.
Also Read: How to Install & Setup Update for Intuit Data Protect to Backup QuickBooks Files? [Quick Guide]
QuickBooks Desktop Pro Review: Features and Pricing in 2023
| | |
| --- | --- |
| PROS | CONS |
| It is possible to manage inventories and spot the average cost of goods sold (COGS) | Note that the QuickBooks pro desktop is no longer available on Intuit's website, so the QuickBooks sales staff must be contacted. |
| The accountant copy allows you to export prior-year data when working on current-year data. | Moreover, you cannot track the inventory assemblies like the one available in QuickBooks premier. |
| You can use a large network of independent QuickBooks ProAdvisors. | Managing fixed assets is not possible. |
| It is now possible to track employee time and bill to customers. | No versions for editions like premier and enterprise. |
| Further, now compare budgeted costs to actual costs in QuickBooks desktop pro 2023. | Only three users are available and the desktop software has to be installed. |
When to use QuickBooks Desktop Pro?
Manage Multiple Companies – You can now handle the books of an unlimited number of companies with only a single subscription to QuickBooks desktop pro.
Businesses who prefer desktop software- It is ideal for business owners having issues with the internet connections and the speed of the internet, as it doesn't require an internet connection to run.
Companies with in-house bookkeepers- When you have in-house accountant working from a single computer, you can make an optimum use of QuickBooks, it further allows you to physically work closes with the accountants to check books offline rather than online.
Businesses with minimal inventory- If you just need basic tracking of your inventory costs and stock levels, without having to deal with goods spread across multiple locations, then QuickBooks desktop pro is ideal for you.
QuickBooks Desktop Pro Facts
Supported Business Types – It supports up to three accounting users in small and medium sized enterprises.
Pricing – For one user $549.99 per year, for two users $749.99 per year, and for three users $949.99 per year.
Money-back guarantee – 60 Days from the purchase date.
Ease of sharing files with accountant – In order to send an accountant's copy to your accountant, you need to create one. However, this is not as simple as file sharing in QuickBooks online.
Standout features- You can use an average cost approach to keep track of inventory and cost of goods sold. Also, you can control and monitor the sales tax and further compare estimated vs actual projects costs. It further lets you scan receipts through mobile and also track the unpaid bills.
Scalability – Only Scalable for three users.
Overall ease of use – The overall usability is above average, and not as user-friendly as cloud-based accounting software.
Customer Service – Callback-only phone support, live chat, chatbot, and self-help resources.
Read this: Update, Manage or Change your Intuit Account with Intuit CAMPs
QuickBooks Desktop Pro New Features for 2023
Cash Flow Hub: The new tool lets you manage your cash flow in one place. It is available in all QuickBooks desktop packages. You can easily keep a check on your account balances, add new accounts, track past due invoices and payments, monitor cash performance, and create cash flow reports with this new feature.
Automatic Mileage Tracking: You can now avail the benefits of automatic mileage tracking in QuickBooks pro desktop 2023. This saves a lot of time and effort of manually entering the odometer readings. All you need is to enter the starting and ending locations, the software will calculate the distance for you on its own. Note that, only iOS devices are supported by this feature, that may be used from a desktop or mobile app.
Payment Links: This particular software lets you create customized payment links making it easier for you to collect payments from customers. Now, easily create a personalized link in QuickBooks and the system will email your vendor the payment information along with a pay button.
QuickBooks Desktop Premier Review: Features and Pricing for 2023
| | |
| --- | --- |
| PROS | CONS |
| This edition includes versions with specific industries. | Software installation is a must. |
| In comparison to cloud-based software, the data input is quick. | Data sharing with external accountants is difficult. |
| Users can create classes for multiple locations or product types. | Powerful features are difficult to understand at first. |
| | Limited to 5 users. |
| | Limited mobile app features and the financial statements cannot be consolidated. |
When to use QuickBooks Premier?
Specific Industries – There are basically five industry specific versions of QuickBooks desktop premier, namely: nonprofits, manufacturers and distributors, professional service firms, contractors, and retailers.
Full-time company bookkeepers- Note that a full-time bookkeeper working on QuickBooks all day is more effective with premier version that cloud based, as it is a faster program.
Users working at several companies – QuickBooks desktop premier allows you to manage books of multiple companies. In case you do not wish to consolidate the financial statements, then premier is the best option to choose.
QuickBooks Desktop Premier Facts
Business Types Supported – It supports businesses in specialized industries including manufacturing, retail, and non-profits that need detailed inventory accounting.
Pricing– The pricing includes $799 per year for one user, $1,099 per year for two users, $1,399 per year for three users, $1,699 per year for four users, and $1,999 per year for five users.
Pricing for enhanced payroll – $50 per month plus $5 for each employee, or $500 annually plus $5 for each employee on a monthly basis.
Money-back guarantee – The money back guarantee is for 60 days of the purchase date.
Standout features- This permits you to manage unlimited companies without paying an additional fee. Moreover, it has improved inventory management tools like the ability to track inventory assemblies. It further allows you to compare expected vs real project costs, which is essential for planning the budget. Moreover, it includes industry-specific versions and reports.
Overall usability – The overall usability is above average to difficult and is advised for experienced Bookkeepers.
Customer Support – Phone Support, live chat, chatbot, and self-help resources.
Read Also: How to Download and Install Trial Version of QuickBooks Desktop (30-days trial)
QuickBooks Desktop Premier New Features for 2023
Tag Intercompany Transactions: This feature in QuickBooks desktop premier lets you to create consolidated reports without manually adjusting the intercompany transactions, further making it easy for the user to manage several business entities.
Cash Flow Hub: It is now easier to keep track of debts, bank accounts, and credit card balances. You can now analyze the account balances, cash balance trends, take care of past-due bills and payments, and further monitor cash performance over a given period of time.
Better Mileage Tracking – The new and advanced QuickBooks premier 2023 lets you track business mileage on its own from a desktop or mobile device and further receive manager or supervisor approval. You can simply enter the start and end points of the journey and the app will calculate the mileage for you. This feature was available earlier, but the user had to manually enter the odometer readings. However, only iOS mobile app has access to this new feature.
Inventory Categorization – In order to make a list shorter and easier to discover what you need; it is now possible to organize items into categories or groups.
Improved bank feeds- Most of the banks are now connected to QuickBooks premier 2023. And you can now configure how frequently banking data is downloaded on its own.
QuickBooks Premier Pricing
The pricing for QuickBooks desktop premier ranges from $799 for one user to $1,999 for five users. This is considered to be a bit expensive in comparison to the prices of most small business software. For $85 per month, you can purchase QuickBooks online plus with similar feature and up to five users. Note that QuickBooks premier might be pretty useful, in case you only need one user. Also, within 60 days of your purchase, you can request a refund with QuickBooks Desktop Premier.
QuickBooks Enterprise Review: Pricing & Features 2023
| | |
| --- | --- |
| PROS | CONS |
| By far, it is considered to be one of the most powerful among all QuickBooks desktop products. | The installation and setup is needed for desktop programs. |
| The advanced inventory management feature includes barcode scanning, bin and location tracking. | Moreover, for QuickBooks cloud hosting, the plan required is a bit expensive. |
| It further includes features for fixed asset management. | For small businesses, this particular edition of QuickBooks can be a bit expensive and complex. |
| You can also get access to feature for combining financial statements from multiple companies | The mobile accounting app is just for capturing receipts and tracking mileage, which is limited. |
| It further enables the user to create unique pricing rules. | |
You might find this helpful: How to Convert and Move Quicken to QuickBooks?
When to Use QuickBooks Desktop Enterprise?
Medium-Sized and Large Businesses – Note that QuickBooks Enterprise can track around 1 million items, workers, customers, and vendors, and can further accommodate up to 40 people.
Companies needing Advanced Inventory Management – You can easily track inventory by location and bin. And further you can create personalized barcodes using QuickBooks Enterprise in order to track an item.
Businesses that issue a lot of invoices – If your business requires to issue a lot of invoices, then it is easy with QuickBooks desktop enterprise. You can send several invoices at once by just a single click using the batch invoicing feature of QuickBooks Desktop Enterprise.
Managing Fixed Assets – This has a built-in fixed asset manager that further acts as your central center to handle information about fixed assets, depreciation methods, groupings, and basis.
Businesses with Multiple Entities – With QuickBooks Enterprise, single license enables accounting for unlimited number of entities. QuickBooks Enterprise 23.0 enables consolidation of financial statements from multiple companies.
QuickBooks Enterprise Facts
Supported Business Types – It supports generally medium and large business. Especially the ones that have outgrown basic and entry-level accounting software, with up to 40 users.
Pricing for one user– The silver version starts from $1410 per year. The gold version starts from $1,830 per year. And the platinum version is $2,250 per year. Lastly comes the diamond version, it starts from $370 per month (no annual commitment).
Money-back Guarantee – The software offers 60 days money-back guarantee.
Standout Features – It enables tracking inventory goods across multiple locations. Further based on the rule you create; it automatically updates the price of the items on sales form. The Enterprise software further allows you to enter data or upload bank statements to reconcile transactions manually. It further allows you to create reports that are highly customizable. Another interesting feature of this software is that, it may include enhanced or assisted payroll depending upon the subscription. Not just that, it has built-in fixed asset management that enables you to keep track of fixed assets such as buildings and equipment.
Ease of file sharing – To share a file with your accountant, you might have to create an accountant's copy. This is acceptable but less easy than file sharing in QuickBooks online.
Overall Ease of Use – If you have used Pro or premier before, then you might find this easy to use. However, in comparison to a cloud-based program, it is a bit less user-friendly.
Customer Support – Unrestricted client assistance is further provided by the QuickBooks priority circle, online forums, live chat, chatbot, and self-help materials.
QuickBooks Enterprise New Features for 2023
Intercompany Transactions: With QuickBooks Desktop Enterprise 23.0, you can combine financial reports that include information from other firms.
Inventory Categorization: This feature enables you to group or categorize inventory items, so that you can quickly discover what you are looking for.
Expiration Dates: You can now build reports around these dates with the addition of a separate field for expiration dates in QuickBooks Enterprise 23.0.
Automatic Mileage Tracking: Instead of manually calculating the odometer readings, you can easily record your business trips using the mobile app.
Cash Flow Hub: This feature allows you to track all of your incoming and outgoing cashflows at one place.
Payment Links: Sending payment links permits you to accept payment without requiring an invoice. After its set up, QuickBooks will send your customer an email with the payment requests and a link to a secure payment processing page.
Improved Report Optimization: Reports like A/R aging reports can be a bit challenging for the enterprise users with large company files to put together. However, for businesses with file sizes greater than 300 MB, QuickBooks has now improved the report compilation process. Due to this feature, complex reports now load more swiftly than they did in previous versions.
Improved Bank Feeds: QuickBooks Desktop 2023 has switched from the traditional banking connectivity method using the bank server to a new platform. This further makes it easy for you to download and categorize the transactions and connect bank and credit card accounts.
Also Read This: How to Register or Activate QuickBooks Desktop?
Pricing for QuickBooks Enterprise
QuickBooks Desktop Enterprise is categorized into four different models, each for single user and having different pricings. This includes Silver, which is the entry level package that has features like advanced reporting priority circle, etc. and is priced at $1,410 per year. Payroll, advanced inventory, advanced pricing, and bill workflow approvals are just a few of the upgraded features included in the Gold, platinum, and diamond versions.
Enterprise Cloud Hosting
Using cloud hosting, it is possible to use a locally installed program i.e., QuickBooks enterprise to be used in the cloud. The on-premise version's features are the same as the hosted enterprise, but you can access the accounting files from any location on any internet-connected device.
You can pick from any of the three plans:
Gold: It starts at $206 per month for one user.
Platinum: Starts at $241 monthly for a single user.
Diamond: Usually starts from $424 per month for one user.
QuickBooks Desktop Enterprise 2023 – Features Based upon user subscription
QuickBooks enterprise is known for its smooth accounting and financial management software which handles everything from invoicing to payroll and inventory management. It is basically desktop-based software. In QuickBooks Enterprise 2023, you will get some unique features that will enhance your level with QuickBooks. The users can avail of the best benefits on a subscription plan. Following are the features you need to check out:
Intercompany Transactions – It is basically a transaction within the same company having different subsidiaries or subdivisions. It further includes the entities like purchase and marketing or marketing and finance, etc. This feature makes it easy to create relationships between multiple company files and multi entity bills within company files in single click.
Categories of Inventory Items – This is a new feature that gives you the perk of allowing users to define items almost any way they see fit and prevent the misuse of the item/sub-item naming standard that can occasionally make reports worthless. Only the add/edit item option of the item list provides access to the item categories. The items and services icon located under the company portion of the home page, the lists or inventory menus, or both provide access to the item list. Note that, the users of QuickBooks desktop only have a few options for defining the inventory items up till now. With user-defined inventory item categories, QuickBooks Enterprise allows users to efficiently manage the inventory. In addition to that, the users can create up to four layers of subcategories to create a hierarchical structure for their inventory objects.
Update on Launch of QuickBooks Accountant Desktop Plus and ProAdvisors Bundles
The QuickBooks version 2023 brings in changes in the QuickBooks Accountant Desktop and QuickBooks Enterprise Accountant to a subscription-based variant. It covers the QuickBooks desktop Accountant and enterprises accountant licenses in ProAdvisor Bundles. As per the recent policy, purchased licenses of mentioned products under the ProAdvisor bundles also come within the annual subscription terms of bundles.
Updates related to QuickBooks Payroll Products
The last update related to the QuickBooks payroll products specified that the users shall not be able to buy the following products as mentioned below after June 1, 2022.
Desktop Assisted Payroll Standalone product of QuickBooks. You can get access of this product under the QuickBooks Enterprise diamond bundle.
Enhanced payroll for Accountants of QuickBooks Desktop.
The above changes in the payroll products might not affect the current subscriptions and renewables. Note that QuickBooks is not going to discontinue the existing products. The new enterprise diamond clients will continue to get access to assisted payroll.
QuickBooks Desktop Payroll Pricing Update
The prices of payroll version of QuickBooks tend to increase in addition to the QuickBooks desktop version. For both payroll versions, QuickBooks desktop and online will reduce the current fee of $4 per employee to $5 per month. The impact of the price increase largely depends upon the number of employees and the subscription.
Also Check This Out: How to Repair or Uninstall QuickBooks Desktop 2022?
System Requirements for QuickBooks Desktop 2023
Every new version requires a different set of system configurations to work smoothly and cater for the best experience. And the same theory applies in the case of QuickBooks desktop 2023. Here are the system requirements for QuickBooks desktop 2023.
Operating System
As Microsoft no longer offers the customer any security updates or support as of January 10, 2023, the newly launched QuickBooks software 2023 didn't support windows 8.1 operating system. Note that there should be any windows installations made natively without using an emulator or a virtual environment. Here are the basis operating system requirements:
64-bit natively installed Windows 11
All 64-bit versions of Windows 10 already installed
Essentials, Standard, and Windows Server 2022
Standard and essential versions of Windows Server 2019
Standard and Essentials versions of Windows Server 2016
Standard and Essentials editions of Windows Server 2012 R2
Essentials, Standard, and Windows Server 2012
Database Servers
The users' workstations should have one of the below stated database servers installed natively. In addition to that, QuickBooks desktop 2023 doesn't support Linux or Windows 10 S mode.
Windows Server 2022, Standard and Essentials
Standard and Essentials versions of Windows Server 2019,
Windows Server 2016, Standard and Essentials
Windows Server 2012 R2, Standard and Essentials
Windows Server 2012, Standard and Essentials
Note: Windows 10 S and Linux Mode won't be supported.
Browser Requirements
For QuickBooks Desktop 2023, you must have proper internet connection and Google Chrome.
Hardware and Operating System Requirements
You can only use QuickBooks desktop 2023 with a 64-bit version of windows operating system and it won't run on 32-bit. Here is a quick view of the hardware and operating system requirements:
Minimum Processor- 2.4 GHz
RAM (Workstation) – Requires 8 GB minimum and 16 GB.
RAM (Server)
Disk Space

2.5 GB of hard drive space (additional required for data files).60MB of additional software is included with the installation files for Microsoft.NET 4.8 Runtime.

Needs at least 4.0GB of RAM for QuickBooks connected services that use IDP.

Double the size of the largest file scheduled for backup, plus 100MB, or double the size for restoration.

Only the workspace folder LocalApplicationData+ IntuitIntuit Data Protect is needed.
It should be noted that QuickBooks data file should be kept on a solid-state drive for optimum performance.
Windows

Windows North American version.

When set to English, regional settings are supported.

When hosting multi-user access, the server machine must have administrator rights.

Natively installed, not requiring the use of emulators or virtual environments.

Optical Drive
For a physical CD installation, a 4X DVD-ROM drive is a must.
Screen Resolution

The display is set for 1280 x 1024 resolution, or it can be higher with around 2 extended monitors.

The best optimized for the computer's default DPI setting.
Other Hardware Devices
In case the user is making use of the Warehouse manager in QuickBooks desktop mobile application, then the following devices can be used.
Zebra TC20, TC25, or TC51 Mobile Computer is advised (Android 4.4 & above)
Mobile computer Zebra MC40 (Android 4.4 & above)
This version of QuickBooks further supports:
Socket Mobile CHS 7CI
Honeywell Voyager 1602g Pocket Barcode Scanner
Symbol CS3070
Other Software QuickBooks is compatible with
QuickBooks integrates with other apps easily. However, the apps that can be used for integration with QuickBooks 2023 version are as follows:
Microsoft Office:

Both 32- and 64-bit versions of Office 2016 (including Outlook 2016).

Both 32-bit and 64-bit versions of Office 2013 and 365, including Outlook 2013. Recall that the web version of Microsoft 365 is not supported; only locally installed versions are.

With Microsoft Outlook 2016–2021, Microsoft Outlook with Microsoft 365, Gmail, Yahoo Mail, Outlook.com, and other email clients that support SMTP, you can send estimates, invoices, and other forms.

Microsoft Word 2021, 2019, 2016, 2013, or Microsoft 365 are required for letter preparation (including 64-bit).

Microsoft Excel 2021, 2019, 2016, 2013, or Microsoft 365 are required for exporting reports (including 64-bit).

Microsoft Outlook 2021, 2019 (32 and 64-bit), 2016, or 2013 are required for contact synchronization.

V19.0 of QuickBooks Point of Sale
2022 Turbo Tax (Personal and Business).
Lacerte 2022.
Pro-Series 2022 tax year.
Quicken 2022, 2021, 2020, 2019, 2018, and 2016 are the following years.
2023, 2022, and 2021 QuickBooks desktop for Mac versions.
Adobe Acrobat reader: version 9.0 or later of Adobe Acrobat reader is required for business planner, payroll, and viewing forms.
Moreover, internet access with a connection speed of at least 56 Kbps is needed for payroll and other online features and services.
Internet explorer 11
Also Check this out: How to Setup and Installation of QuickBooks Desktop Enterprise?
Compatibility with Antimalware and Antivirus Software
According to the experts, QuickBooks Desktop Pro 2023, Premier 2023, and Enterprise 23.0 is compatible with the below stated programs:
Antivirus Software

Security from Trend Micro

Cylance (Only for Internet/Regression)

Antimalware Software
It should be noted that although RAID systems are compatible with QuickBooks, it is not advisable to do so, as it could make QuickBooks run slowly.
Process to Download QuickBooks Desktop 2023
Here is a quick view of the process to download and install QuickBooks 2023 on workstations. Let us have a look:
You need to first click on the download link. And further click on the same to start the process of downloading QuickBooks 2023.
After clicking on the link, you will be asked: Will you be using QuickBooks Desktop on multiple computers at once?
You now have to click on the option yes, no, or unsure, according to your requirement.
Note that selecting yes and unsure will require performing the entire setup process. Whereas, picking no as the option will redirect the user to express setup.
Another option is to choose the standard startup option that would require performing the below described steps:
At first, you need to follow the installation process that would appear when clicking on the standard setup link.
You now have to make a few selections. The following questions will be asked that needs to be answered:

Which country is the user accessing QuickBooks Desktop 2023 from?

Which QuickBooks desktop 2023 version the user wants to download.

After selecting the answers, pick the 2023 or later version of QuickBooks.
Also, note that you need to choose the pro, plus, premier plus, or Mac plus for QuickBooks pro, premier, and Mac 2023.
After picking up one of the many options, it would show up in a search tab. If it occurs, press on it to proceed the process.
Clicking on the search tab will redirect the user to the software page. On this software page, the user needs to download the edition and version of the software that best suits their business requirements.
Now, click on the download tab to start the download process.
And further, you will be asked to select where on the workstation they would like to download the software. If so, then select the location where you wish to download. Or else it will be downloaded on the default location.
Select save the file option.
And now, head to the folder where the files have been saved.
And perform the steps to install the software.
Related Article: How to Install and Set up QuickBooks Mac Desktop?
QuickBooks Desktop 2023 Installation
Once the above steps for download process are completely performed, it is time to implement the steps to install the software. However, it is essential to be careful when selecting the installation type. Let us check out the steps involved.
You need to first open file explorer application on the workstation.
And further, in the file explorer, look for QuickBooks 2023 edition.exe file that you downloaded in the steps above.
Right click the file and it will open a small menu.
From the menu, click on the option stating run as admin.
This will begin the installation with admin privileges.
You will now see the download instructions that you need to follow one by one.
Along with that, you will see the license agreement. It is important to read and agree to it to proceed.
Click on the next tab.
And once again click on the same till finish tab appears.
Authenticate the software, by entering the license and product key.
You will now be asked to pick from any of the two installation options. Let us evaluate and explore each of the options one by one.
A. Network And Custom Install:
You can go for custom and network installation, in the following cases:

It is important to decide when the QuickBooks company file will be hosted on the server.
You will be asked if you wish to set up a multi-user network or not.
You will finally be asked if you wish to choose the default installation location for QuickBooks desktop 2023.

After selecting the custom and network installation type, press the next tab.
Note that the how you use QuickBooks option must be selected.
Further, if you have selected the option to change the installation location, then you will see a new window where you can reconfigure the location where the software will be installed on the workstation.
Change the location by selecting the browse tab.
And further navigate to the program folder and select a different location.
Once you select the location, it will initiate the installation process. You need to just press the next tab.
There will be a checkbox that you need to select, if you want QuickBooks to open once the installation has been completed.
You now have to click on the finish tab after the installation is complete.
In case the checkbox was selected when installation was in process, then QuickBooks will launch itself.
QuickBooks Desktop 2023 Activation
After the installation is complete, you will be asked to activate and update the program. In that case, you need to perform the below steps:
At first, run QuickBooks desktop 2023 that you installed earlier.
After the software opens up, you need to head to the help menu.
Once done with that, you will see a dropdown menu, where you need to choose the option that helps in activating the application.
Perform the onscreen steps.
And in case all the instructions are performed properly, then QuickBooks desktop 2023 application will have been activated successfully.
B. Express Installation
Below are the situations, when you need to perform express installation in QuickBooks:
It can be used in case QuickBooks desktop 2023 is intended to be used on a single workstation.
Go for this type of installation, if you wish to reinstall QuickBooks desktop 2023 software.
This type of installation works well if you are using QuickBooks desktop application for the very first time.
After selecting the express install tab, click on the next tab.
Followed by, performing the steps that appear on the screen when clicking on the install tab.
After the installation is complete, press the finish tab.
You can also read: QuickBooks Desktop 2020: What's new and improved
Update QuickBooks Desktop 2023
In case you wish to update your software, you easily can, using the steps enumerated below:
Right click the QuickBooks icon. You will see the icon on the user's desktop window.
After that, a small menu will appear. There, you need to choose the option stating as run as admin.
Now, select the help menu from the QuickBooks window's top bar.
And further, choose the option stating update QuickBooks from the dropdown menu.
Choose the option stating update QuickBooks desktop and click on the options tab.
You now will see a few checkboxes in front of them that you must choose.
After all the necessary changes, you can proceed to the save tab.
Press the update now tab and also choose reset update checkbox.
You will now see the get updates tab.
And later on QuickBooks software will be downloaded and installed with all the latest updates.
Reopen QuickBooks and check if it is updated or not.
Upgrade company file
In case the user is updating QuickBooks from an older version to the most recent version, then it is a must upgrade the company files as well. Not doing this would mean that the files might not run in the latest version of QuickBooks, and might land you into compatibility issues. The steps to upgrade the company file are as follows:
The very first step is to ensure that no one else has access to the company file that the user is upgrading.
Open the latest version of QuickBooks that you have.
After that, head to the menu that is on top of the window, and choose the option named as file.
From the file menu, press the option stating open or restore company.
Now you will see the company files stored on the workstation.
You will then have to click on the company file that you are trying to upgrade.
And further, open the file by pressing the next tab.
In case there are any company files with a .qbb extension, then you need to either open them or prepare a portable company file for safety.
Start the process to create a local backup.
And locate the company file and open it once found.
After opening the file, you now have to log into the file with admin privileges.
QuickBooks will make a backup of the current file before starting the upgrade on its own.
You can also choose where you wish to save the file that QuickBooks will have generated for them. You can either set a custom location for the file, or they can do nothing so that the default save location is used.
You can now begin the update process by pressing the update now tab.
After the update ends, press the finish tab and also the done tab.
The company file will now have been updated successfully.
Does QuickBooks Desktop Being Phased Out in 2023?
Well, it should be noted that the QuickBooks desktop for windows 2022 will be partially phased out in 2023. This means that access to the add-on services like payroll, online banking, online backup, and live support are discontinued after May 31, 2023. Whereas, the product will still work without any updates or security patches for those who do not make use of these services. In order to continue using the add-on services or get the latest features and security updates, you can move to QuickBooks online or QuickBooks desktop pro plus/ premier plus.
For users in the UK, QuickBooks desktop will be completely phased out in 2023. Thus, the users have to eventually migrate to QuickBooks online. To decide which option is ideal, you can compare the features and pricing.
You might find this helpful: Why QuickBooks Pro is the Best Accounting Software for Small Businesses?
Conclusion
Towards the end of this segment, we believe that the information shared above might be of some help in understanding the features of QuickBooks desktop 2023. If you still have any queries or if you require our assistance at any point in time, then contact our tech support team at +1(844)405-0907. Alternatively, you can just go with us by clicking on the chat now button. We are a team of certified QuickBooks professionals who work round the clock providing instant support services.
Few other helpful articles
How to Fix QuickBooks 2018 Installation Error
Convert your QuickBooks Desktop files to QuickBooks Online?
How to Download and Install Trial Version of QuickBooks Desktop
Some Important FAQs Related to QuickBooks Desktop 2023
What are the steps to update QuickBooks Desktop 2023?
To update QuickBooks Desktop 2023, follow these steps:
1. Open QuickBooks Desktop and go to the Help menu.
2. Select Update QuickBooks.
3. Click on the Update Now tab.
4. Follow the on-screen instructions to download and install the update.
What is the release date for QuickBooks Desktop 2023?
QuickBooks Desktop 2023 was officially released on April 1, 2023.
How do I know if I need to update QuickBooks Desktop 2023?
You can check if there is an update available by going to the Help menu in QuickBooks Desktop and selecting Update QuickBooks. If there is an update available, it will show you the option to download and install it.
Can I update QuickBooks Desktop 2023 if I have a subscription?
Yes, you can update QuickBooks Desktop 2023 if you have a subscription. Just follow the steps outlined in FAQ 1 to update your software. If you encounter any problems during the update process, you can call our toll-free number +1-844-405-0907 for assistance.
What are the benefits of updating QuickBooks Desktop 2023?
Updating QuickBooks Desktop 2023 provides you with the latest features, security updates, and bug fixes, ensuring that your software runs smoothly and efficiently. It also helps you stay compliant with the latest accounting standards and regulations. By keeping your software up-to-date, you can save time and minimize the risk of encountering issues down the line. If you have any questions about the update process, our QuickBooks experts are available 24/7 at +1-844-405-0907 to help.
Can you use QuickBooks desktop after the subscription expires?
Even if you plan not to re-activate your subscription, you can view the file. Although, you won't be able to access the online services and security updates such as QuickBooks desktop payroll, live assistance, etc.
Will QuickBooks desktop be discontinued in 2023?
Note that the Microsoft windows versions earlier than windows 10 will unable to use QuickBooks 2023. However, support for QuickBooks 2020 version will probably be cancelled.
How much will QuickBooks desktop 2023 cost?
Well, the QuickBooks desktop 2023 prices will be: QuickBooks 2023 Desktop pro plus $549. QuickBooks 2023 desktop Mac plus $549. QuickBooks 2023 desktop premier plus $799.
Where do I find a link to purchase QuickBooks pro 2023 desktop?
QuickBooks desktop pro plus 2023 is available for purchase on Intuit's official website. You can also connect with our experts for further support services.
I'm unable to download the Quickbooks Desktop app using QB's Help page instructions. Is there also another way to do it?
Downloading QuickBooks desktop app is only available in QuickBooks online advanced and accountant version. You will have to manually download QuickBooks desktop for MAC.
Can I switch back to QuickBooks desktop?
At the moment, there isn't a direct way to switch from QuickBooks online to desktop. However, you can connect with our experts and they will help you migrate and convert your online data to desktop version.
After I updated to desktop 2023, my payroll forms are stuck in 2022 and will not update to 2023
To fix this, make sure that you have the latest payroll update in your QuickBooks desktop. You might see some errors when updating the payroll tax table, you can perform the fixation steps to eliminate those.