QuickBooks Desktop is one of the most popular accounting software packages used by businesses of all sizes. It is a comprehensive tool that helps you to manage your financial transactions, track expenses, create invoices, and generate reports, all in one place. Installing QuickBooks Desktop is a relatively simple process, and in this blog, we will walk you through the steps to install QuickBooks Desktop.
Before you begin, make sure that your computer meets the system requirements for QuickBooks Desktop. You can find this information on the QuickBooks website or on the packaging of the software. You should also have your product license and installation CD or downloaded installation file on hand.
Related Article: How to Setup QuickBooks first time?
Important Points to remember in order to Install QuickBooks Desktop
Things to understand for Smooth QuickBooks Installation (For Users Only)
While Installing:
Does my system run the QuickBooks software?
In such a case, the user will be required to verify the QuickBooks System Requirements page for the QuickBooks released year & version.
What to do as I downloaded the QuickBooks file but didn't open automatically?
In such situation, go to the hard drive and search for the location where the QuickBooks file saved and start it manually.
Shall I go with the express or custom QuickBooks installation?
For the beginners, we always suggest the express installation if the network isn't setup on the system.
In case, you already a QuickBooks user or QB application installed in the computer then you can go with the custom installation to make sure that old QB file(s) doesn't get hamper or overwritten.
While Upgrading:
Is it important to create backup before starting?
We personally suggest you to create QuickBooks backup company file(s) before starting the QB application. We also recommend you to save or store the created. QBB extension file backup in some external hard drive or device.
Read Also: How to Fix QuickBooks Error 6000, 301?
Deciding the type of Installation
The user is generally having two options for installing QuickBooks: express, or custom and network.
Express Install- This type of installation is recommended in situations such as, first time user, reinstalling QuickBooks, using QuickBooks on a single system, etc. The steps involved in express install are as follows:
First of all, the user must choose select the Express and Next option.
And then, select Install option.
And lastly, opt for Open QuickBooks.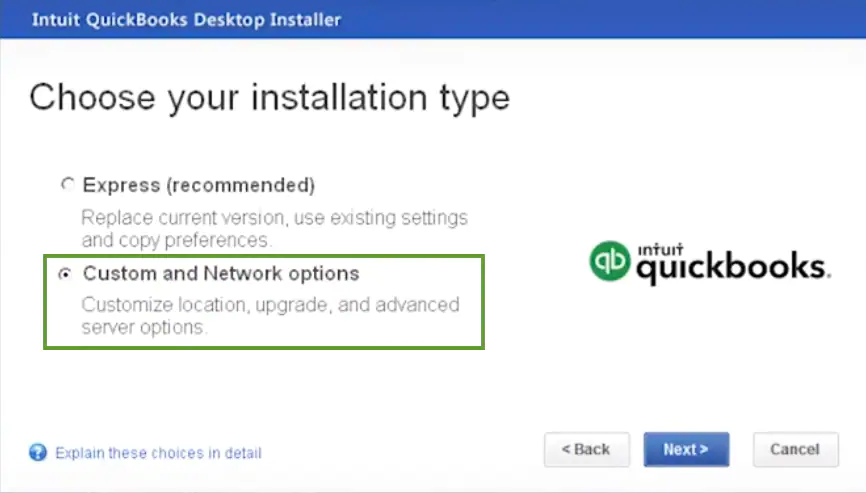 Customer and Network install: This type of install is recommended while installing QuickBooks somewhere other than the default location, or also when the user hosts the company files on a server, or for setting up a multi-user network.
The steps involved in custom or network install are as follows:
To begin with, the user needs to select the Custom and Network options, and hit Next.
After that, opt for the option that describes the way you will use QuickBooks.
The next step is to select the change the install location option, on the next screen.
Also, select Browse option to decide where to put the QuickBooks folder. Majority people put it in their Programs folder.
And then, opt for the Next option to begin with the install process.
Once the installation process gets finish, then click on the Open QuickBooks option.
You may also like: QuickBooks desktop enterprise setup and installation guide
Steps to Download and Install QuickBooks Desktop
Get the step-by-step instructions to install QuickBooks desktop on your system, make sure to follow the steps listed below:
Step 1: Prepare your computer
The first step is to prepare your computer for the installation. Make sure that your computer meets the system requirements for QuickBooks Desktop. You should also close any open programs or applications before you begin the installation process.
Step 2: Download or insert the installation CD
If you have a downloaded installation file, double-click on it to begin the installation process. If you have an installation CD, insert it into your computer and follow the prompts that appear.
Step 3: Enter your product license information
Once you have started the installation process, you will be prompted to enter your product license information. This information can usually be found on the packaging of the software or in an email if you purchased the software online.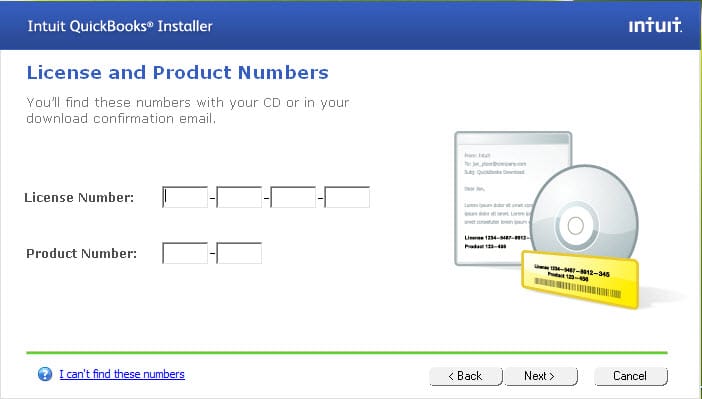 Step 4: Choose your installation type
Next, you will be asked to choose the type of installation that you want. You can choose to install the software on a single computer or on a network of computers. If you are installing the software on a network, you will need to make sure that you have the appropriate network settings.
Step 5: Customize your installation settings
In this step, you can choose to customize your installation settings. You can choose the location where you want to install the software, and you can also choose which components you want to install. If you are unsure, it is best to leave the default settings.
Step 6: Wait for the installation to complete
Once you have chosen your installation settings, the installation process will begin. The length of time that it takes to install QuickBooks Desktop will depend on the speed of your computer and the type of installation that you have chosen.
Step 7: Activate QuickBooks Desktop
After the installation is complete, you will need to activate QuickBooks Desktop. To do this, open the software and follow the prompts to enter your product information and activate the software.
See Also: How to Fix QuickBooks Error 6000 304?
In conclusion, installing QuickBooks Desktop is a simple process that can be completed in just a few steps. By following these steps, you can easily install QuickBooks Desktop have your software up and running in no time, and you can begin managing your finances with ease.
See also: How to Fix QuickBooks Error H101, H202, H303 or H505?
Hire Intuit Certified ProAdvisors for help
If you want any help or require any technical assistance, you can take help from us by calling at our QuickBooks help number i.e. +1-844-405-0907 and feel irked free. Furthermore, our experts have a versatile adept and niche in resolving QuickBooks desktop installation issues at the present time. Feel free in connecting our technicians that are available for round the clock as 24/7. Ask expert guidance by connecting our experts today!
Other Resources:
How to setup a new company file in QuickBooks?
How to fix network issues with QuickBooks File doctor test results?
Fix PS033 error: QuickBooks can't read your payroll setup files