Checkout the Latest features of QuickBooks Desktop 2018
With the most recent QuickBooks version out in the market, you could be confused that you ought to upgrade to the most up to date version or not. In this article, we will have a quick glance of numerous benefits of using QuickBooks Desktop 2018 for different sectors.
Intuit has revealed the new and updated features for QuickBooks Desktop 2018. All the updated options are available on QuickBooks Pro, Premier, Accountant 2018 and Enterprise 18.0. The new QuickBooks desktop is the perfect Christmas gift for all users. This software concentrates on new and enhanced features that aid accounting professionals and their customers complete tasks with less effort.
QuickBooks Desktop 2018 Features
The new software comes with a lot of upgrades in the existing features and in this article we are going to tell you all about the new and improved features in QuickBooks Desktop 2018.
QuickBooks Desktop 2018 version is available for business owners and professionals to use and meet their business goals. Like always, the new version consists of various advanced features. So, here in this article we will discuss about the latest and improved features of QuickBooks Desktop 2018. Also you will see what benefits you will get after upgrading the QB desktop 2018 edition.
QuickBooks Desktop 2018 Features Available for Windows OS
Below we have listed those new features which are offered in all Windows variation QuickBooks Desktop 2018.
| | | | |
| --- | --- | --- | --- |
| Multi-Monitor Support | Level 3 data in QuickBooks Payroll | Stay logged in preference | Secure E-mail Support |
| Changes for QuickBooks Add-ons | Payroll reminder badge in QuickBooks Payroll 2018 | Additional columns for inventory | Search in the Chart of Accounts |
| Internet Explorer Support | Copy/Paste line item shortcut | Cash/Accrual Toggle on Reports | Valuation summary and inventory stock status reports |
| Mobile inventory scanner support (QuickBooks Enterprise Accountant and Enterprise Platinum Editions only) | Enhanced sales order fulfillment with android app (QuickBooks Enterprise Accountant and Enterprise Platinum Editions only) | Secure web mail | Quickly merge duplicate vendors (QuickBooks Desktop Accountant and Enterprise Accountant editions only) |
| Payroll Liability Flag | Additional PII encryption | Security Updates for all editions of QuickBooks 2018 | Past Due Stamp |
Read Also: How to fix QuickBooks Error 6209?
New and Improved features of QuickBooks Desktop 2018
The main focus of QuickBooks Desktop 2018 is to save time and thus keeping this in mind the new features that users can enjoy.
Here we have listed those new and improved features which are available in all Windows version of QuickBooks Desktop 2018.
Multi Monitor Display
Past Due Invoice Stamp
Accounts Chart Feature
Copy/Paste of item shortcut
Inventory Valuation and Stock Status Report
Secured E-Mail support
Ability to stay Logged in
Liability Flag for Payroll
Available only on QuickBooks Desktop Accountant and Enterprise Accountant editions:
Feature to Merge Duplicate Vendor details
Available only on QuickBooks Enterprise Accountant and Enterprise Platinum editions:
Added feature of Mobile Barcode Scanning for Order fulfillment in QuickBooks Enterprise 2018
Available only to US users this is a new additional feature by Intuit in the updated version of the software.
It enables users to work with remote devices like bar-code scanner and connect them easily to the desktop or a laptop.
New Security features in all QuickBooks 2018 Edition
Security is one of the most important things to keep in mind while dealing with company files, information and important data. Thus, Intuit has updated the security features in all editions of QuickBooks 2018 as an added enhancement from their previous years QuickBooks Desktop Security Updated Hullaballoo.
More on PII Encryption
Unlike in the previous software the new QuickBooks Desktop 2018 comes with the feature of personally identifiable information (PII) that can be encrypted as well.
Security on Web Mail
Now save on work integrity with Intuit's new feature that enables QuickBooks to securely work with web mail accounts.
Latest version of Internet Explorer
For all users of the latest QuickBooks Desktop 2018, it is mandatory to use the most recent version of Internet Explorer for smooth functioning of all the features.
Changing QuickBooks Add-ons
In the previous versions of QuickBooks any third party app working with QuickBooks in the background had to change preference setting to keep the working connectivity with QuickBooks.
The newer version absolutely relieves you of such additional efforts.
Easy Payroll reminder in QuickBooks Payroll 2018
Reminding users for any upcoming payroll deadlines, the QuickBooks Payroll 2018 has the new and improved Payroll Reminder Badge feature.
Level 3 Data for QuickBooks Payroll user
This new feature in QuickBooks desktoop 2018 enables users with commercial credit cards to access level 3 data. It helps customers to trust and thus release fund easily.
Read Also: How to check the product version and release of your QuickBooks?
Recent Changes, Improvements and Fixes in QuickBooks Desktop 2018
QuickBooks Desktop 2018 concentrates on new and enhanced features that assist accounting professionals as well as their clients total tasks with less effort. Understand the new and improved features:
Multi Monitor Display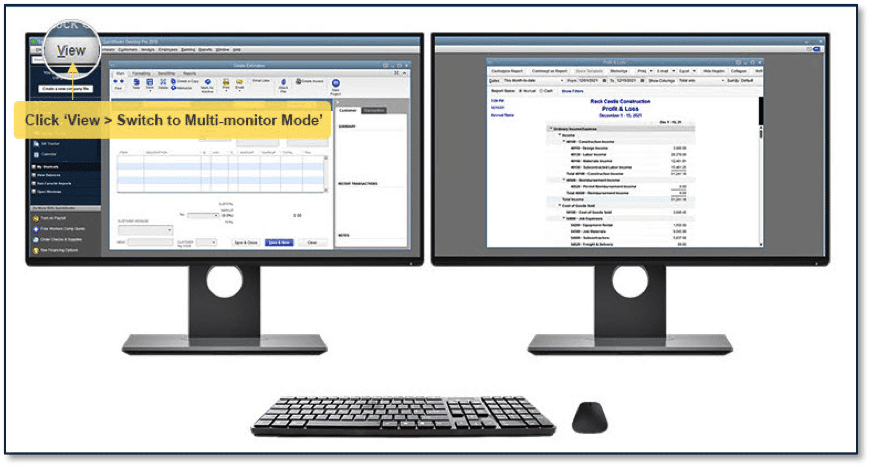 Previously without the Multi Monitor Support users found it difficult to work on same QuickBooks file running on two monitors simultaneously. And addressing this issue, the new QuickBooks Desktop 2018 comes with a very interesting feature that allows users to work on Multiple monitors at the same time.
To enable the Multi Monitor display, click on the View Menu => and then switch to Multi Monitor Mode.
It improves work efficiency besides saving time.
Past Due Invoice Stamp
The new feature in QuickBooks desktop 2018 has the Past Due Stamp for all the Invoices as well as on the display message on the viewing copy of the GUI.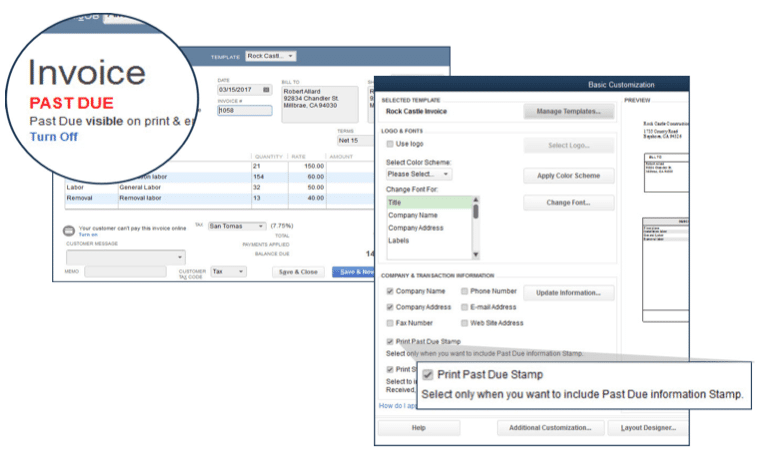 With this feature upon re-sending copies of past-due invoices to the customer, the system automatically notifies you that they are past due. However, this feature can only be used in QuickBooks invoice when you turn it on through the following steps.
Create a New Invoice option.
Select Formatting
Select Templates
Click on the lower left Template drop down menu and select Edit Templates
Click on the "Print Past Due Stamp" option
Charts of Accounts Feature
The new QuickBooks 2018 comes with the Chart of Accounts of feature that helps users to easily locate and open a selected chart of account or sub-account with the help of only the account number, account name.
To use this feature just follow the following steps as:
Go to Lists and select the Chart of Accounts
Go to the Search Box at the top left of Chart accounts list
Type a portion of account name or number
Click on the Search Button to generate Accounts Chart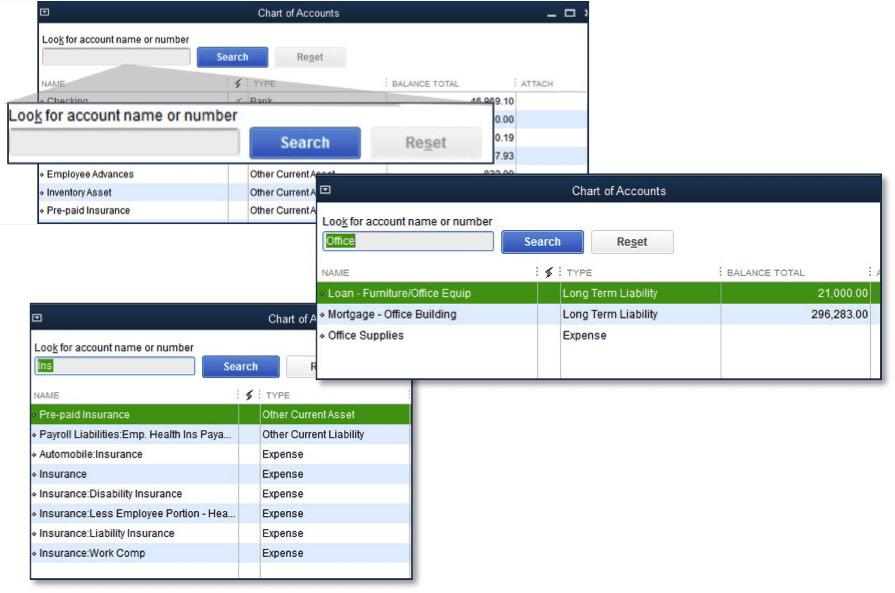 Cash and Accrual Toggle for Reports
To easily toggle between displayed reports on the basis of Cash or Accrual, the new QuickBooks Desktop 2018 comes with the Cash/Accrual Toggle. This helps to view QuickBooks report on the basis of cash very easily as all reports are computed and displayed on an Accrual Basis by default.
Also for the summary report you can change the settings in which you would like to display the report and graphs.
Enhancing the Inventory Reports Customization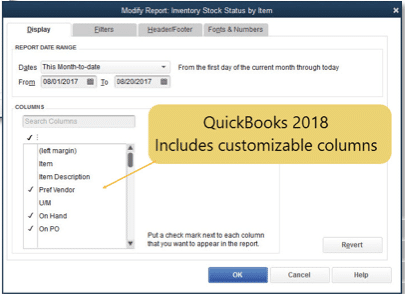 By far one of the best updated features in QuickBooks 2018, this recent update allows users to easily add or remove columns from the Inventory Reports within QuickBooks Premier and QuickBooks Enterprise solutions.
This also helps in Inventory Valuation Summary, detailing of Inventory Valuation, sort inventory status by Item reports and Assembly Shortage by Item report in QuickBooks Enterprise.
Security on Web Mail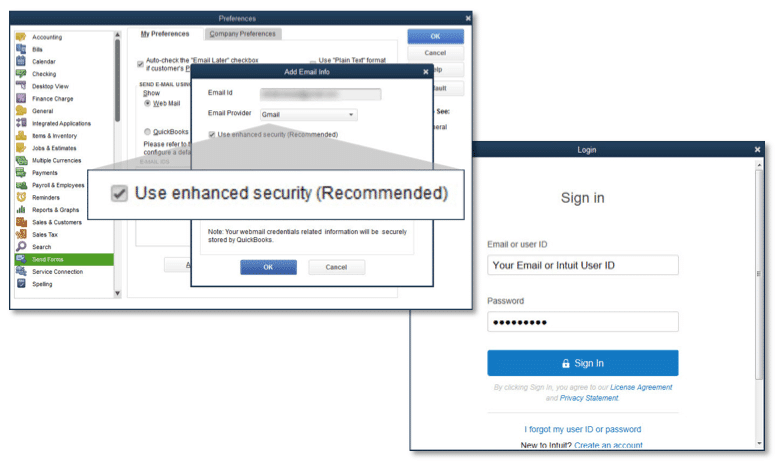 The new QB desktop 2018 update allows users to send emails over Gmail, Outlook, Hotmail, MSN and Windows Live accounts securely, thereby improving work efficiency and multi factor authentication.
To use this feature just follow the steps as:
Go the Menu Bar and click on Edit button
Select Preferences
Click on Send Forms and then My Preferences
Select the Webmail option
Select "Use enhanced security" setting while setup
Note: To complete the Set Up users need to have their Intuit Id and Password.
Ability to stay Logged in
QuickBooks Desktop 2018 comes with the new update that allows users to stay logged in to their QuickBooks account without having to enter user id and password every time they open or switch company files.
To use this feature the following steps are:
Go to the Company and then click accountant
Select Manage Login Settings and click on "Keep User logged in for."
Specify the time period from the option range from up-to two days to 90 days.
Better Sales order fulfillment with Android
For enhanced sales order fulfillment on worksheet and connectivity with a portable bar-code scanner, QuickBooks 2018 has now improved compatibility with Android App. So if you are using sales order and need to quickly access your warehouse pick list or improve speed and accuracy then this feature would be very useful.
Mobile Inventory and Scanner Support
One of the best features to have been added in QuickBooks 2018 that helps you save time, reduce manual error and make quick business decisions with real-time inventory data.
To use this feature just follow the below steps:
Install QuickBooks Desktop Warehouse Mobile app on your Android device.
Connect Mobile Bar Code device or Android phone to QuickBooks Enterprise with Advanced History via a Wireless network.
Create Vendor record for each Warehouse picker and assign new vendor type: Warehouse User.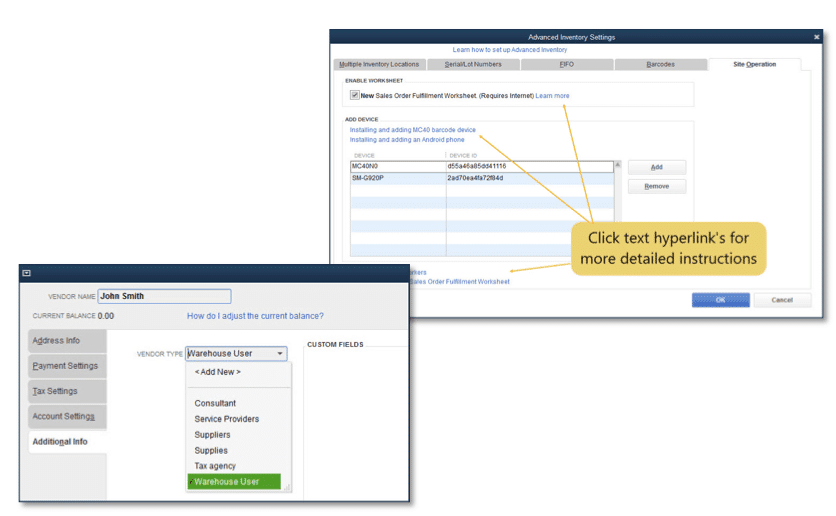 Enterprise Users With Advanced Inventory Can Enable Mobile Scanners
Quick Merging of Duplicate Vendor details
To avoid confusion and combine up to four vendors under a master vendor and update information as required, the new feature allows quick merge of duplicate vendor details. This helps in saving a lot of time in vendor management as well.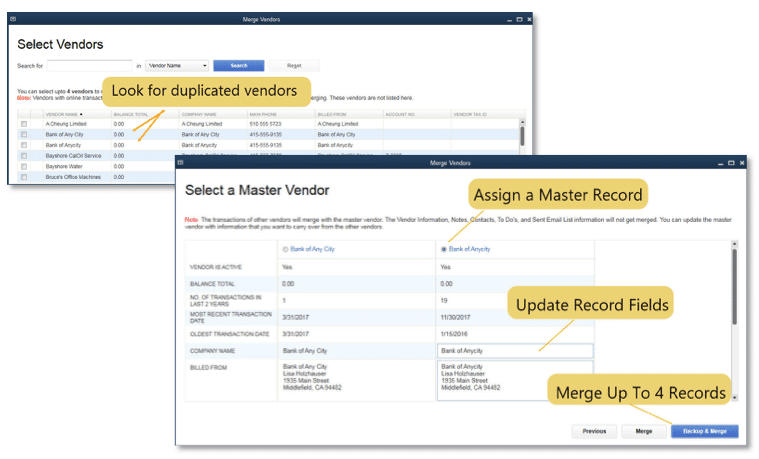 But before you merge Vendor details make sure that:
Your Company files are used by Single User
You are Not working on Accountant's Copy File.
Multi-Currency is turned OFF.
The Vendor you want to merge have NO: tax authorities, Tax exempt, Online Banking payment and Direct Deposit Vendor.
Follow the below steps to Merge Vendors:
Open the Merge Vendors Window.
For Accountant Edition: Select Client Data Review from the Accountant Menu and click on Merge Vendors.
For QuickBooks Desktop Enterprise: Select the Accounting tools from the Company Menu and click on Merge Vendors.
On the Merge Vendor's Window, click on the vendors you want to merge.
Select a Master Vendor.
Click Yes on the confirmation prompt and then OK on the merge complete window.
You may also read: How to Fix QuickBooks Error 1334?
QuickBooks Accountant Desktop 2018 to Prior years – A Quick Comparison
Key Features by Version Year
2018
2017
2016
2015
Quickly merge duplicate vendors
Search and sort to identify duplicate vendors,
designate the master vendor, and merge up to four records at a time.
✔
Increase productivity with Multi-Monitor support
Increase your efficiency and visibility into your
QuickBooks files through multi-monitor viewing.
✔
Search faster within Chart of Accounts
Quickly find an account by typing in the full or partial account name or number in the search box.
✔
Complete tasks quickly with keyboard shortcuts
Copy and paste whole lines in invoices and elsewhere
with Ctrl+Alt+Y and Ctrl+Alt+V.
✔
Easily switch between cash and accrual basis
With one click in the report window you can switch
between cash and accrual basis
✔
Stay on top of deadlines with Payroll Liability
Reminder (Payroll-Only): Get reminded of various payroll liabilities, like federal and state payroll taxes, and workers' comp.
✔
Save time with easier, faster search
Search for transactions using a range of values instead of exact amounts, and allow QuickBooks to
auto-fill partial search terms for you.
✔
✔
Improved report filters
Easily see which filters have been applied to a report,
reproduce memorized reports, and toggle back and
forth between reports.
✔
✔
Easily view credit card charge statuses
Quickly see if a credit card charge or refund has
cleared, without having to check reports or the
register
✔
✔
Get more detail on deleted users
Give clients a more detailed audit trail by easily
tracking and matching transactions back to deleted
users
✔
✔
Delete or void transactions in bulk
Easily filter transactions to see which ones are linked,
and find the right ones to delete or void.
✔
✔
✔
Help clients manage vendor expenses
Track all vendor-related bills conveniently and
efficiently in a single window.
✔
✔
✔
Accountant Toolbox
Unlock access to powerful accountant tools on-thego.
✔
✔
✔
✔
Send Portable Company File
Clients can send you a portable company directly
from QuickBooks. No more technical support.
✔
✔
✔
✔
Insights on Home Page
See a snapshot of the health of your client's business
so that you can make insightful recommendations
✔
✔
✔
✔
Time and Expenses block in Income Tracker
View unbilled hours and take immediate action.
✔
✔
✔
✔
Send Multiple Reports in Email
Easily choose and attach multiple reports in one
email.
✔
✔
✔
✔
Enter multiple transactions at the same time
Batch-enter checks, deposits, or credit card
transactions on one screen.
✔
✔
✔
✔
Let clients access journal entries with a click
Email journal entries from QuickBooks with ease and
let clients import them with a single click with Send
General Journal Entry.
✔
✔
✔
✔
Send files securely
Send Accountant's Copy files through secured Intuit
servers with Accountant's Copy File Transfer Service.
✔
✔
✔
✔
Find and Fix errors fast
Find and Fix client entry errors faster with Client Data
Review
✔
✔
✔
✔
Take a cross-edition expedition
See what your clients see with instant access to all
QuickBooks editions in one software package.
✔
✔
✔
✔
Make asset management your best asset
Stay on top of acquisition, depreciation and disposal
with Fixed Asset Manager.
✔
✔
✔
✔
Find all your balances in one place
Gather beginning balances, period transactions and
adjustments, and ending balances for any time frame
with Working Trial Balance.
✔
✔
✔
✔
Free features and improvements.
✔
✔
✔
✔
Conclusion!
The latest version of QuickBooks desktop 2018 is perfect for business and really ease to use. It comes with the best features to manage your business efficiently, more securely and with minimum human error. Although if you are an accounting expert and professional in this field and want to test this new product, you should surely try the latest released version 2018 of QuickBooks. For more information you can contact to our QuickBooks toll-free number that is +1-800-360-4183.
You may also like:
How to Update the QuickBooks Desktop to Latest 2018 Version?
How to transfer QuickBooks desktop from old computer to new?