QuickBooks is a premium accounting software that has assisted thousands of business owners and accountants to meet their business goals. All the users of this software are required to create an accountant and log in. But at times users may come across following errors during their attempt to log into a company file:
"The attempt to log in with the user name (name of the user) failed. This user is already logged into the company file. Try a different user name."
Or
"User ID Admin is already logged into the company file."
The image as shown below is similar which appears on your desktop.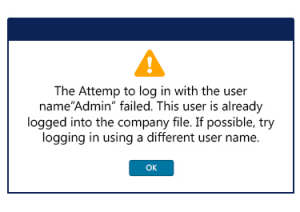 Why do We Receive Error: The attempt to log in with the user name Admin failed?
These errors may occur because of the following reasons:
QuickBooks user or accountant is logging into the company data file using the Remote Access, and hasn't logged out from his last session.
The user or accountant is already logged into company file using the same credential from a different computer.
An issue with electricity or power supply instigated caused errors in the network.
Read also: How to Fix QuickBooks Unable to Create PDF Issue?
Solving QuickBooks Error: The Attempt to Log In With The Username Failed
In order to resolve this issue, you are required to follow this process:
Before continuing with any troubleshooting step make sure that you have closed all your QuickBooks processes.

Then, press Ctrl + Alt + Delete tabs on your keyboard to go to task manager.
Next, go to the Processes tab.
Once in task manager window, sort the image name of processes in alphabetical order of running all processes.
Select and end every single process starting with "QB". To do that, just do a right click on the process name and press End process.
Once all the process of QuickBooks are closed, try to Log In to the QB company data file.

Restart the server where you wish to store and host your company data file.
Open QuickBooks desktop.
Try to open a company data file.

If you fail to open a file, try to log in as a different user.
If you still can't log in, contact your QuickBooks Administrator.

In case you are a QuickBooks Administrator, and you use QuickBooks version 2008 or later, then you will have to reset credential

Press the reset button on the login screen and answer the displayed questions.

In case you are facing issues in resetting the credentials, then download the Automated Password Reset Tool from the official website of Intuit.
Once you reset the credential, and again fail to log into the company data file, you will have to restore your latest backup and enter the data again.
If you do not have a backup or accurate backup, then submit the file to the Data recovery services for recovery.
See Also: How to Fix QuickBooks Error 6000 304?
Other solution methods you may try
Download and install the QuickBooks Tool Hub and Run Quick Fix my Program
Close your QuickBooks.
Download the most recent version (1.5.0.0) of the QuickBooks Tool Hub. Save the file somewhere you can easily find it (like your Downloads folder or your Windows desktop). Note: If you've installed Tool Hub before, you can find out which version you have. Select the Home tab. The version will be on the bottom.
Open the file you downloaded (QuickBooksToolHub.exe).
Follow the on-screen steps to install and agree to the terms and conditions.
When the install finishes, double-click the icon on your Windows desktop to open the tool hub.

In the QuickBooks Tool Hub, select Program Problems.
Select Quick Fix my Program.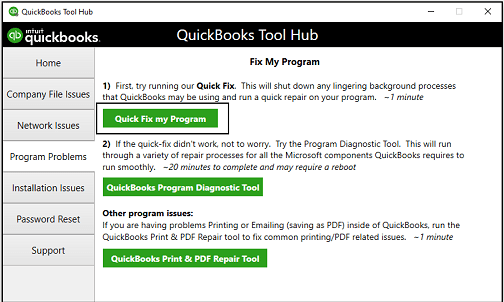 Open QuickBooks Desktop and log in to the company file.
You may see: How to fix QuickBooks Error: You are currently not subscribed to any services?
Conclusion!
Hopefully, The above mentioned troubleshooting steps should be able to fix log in error for you. However, if you are still not able to QuickBooks data file, you can call our round the clock QuickBooks Data recovery number i.e. +1-844-405-0907. Our experts have the right tools and technology to resolve all your QuickBooks related issues in the least possible time.
Read More Helpful Articles
How to Setup and Configure Email Services in QuickBooks Desktop?
How to Fix QuickBooks Error PS077 or PS032?