QuickBooks is cutting-edge software that revolutionized the way accounting done. Powered with effective features this software has made accounting, payroll and all aspects of financial management much more comfortable. Today, right from the big companies to small businesses almost everyone depends on QuickBooks application. Two most popular built-in features being offered by the Intuit is to Verify and Rebuild Data file in QuickBooks desktop. Both features are important and can be used for different tasks.
One of the most common reasons for utilizing the Verify and Rebuild data tools are when there is some errors show up while you use QuickBooks software and any type of discrepancies discovered on reports such as the costs or invoices. There might be many data issues within a company file. The verify data tool self-identifies and consider the common data issues in a company file whereas the rebuild data tool is used for solving the data integrity problems found by the verify data tool.
In this article, we will discuss about how to rebuild and verify data file in QuickBooks software. Let's begin with the common reasons behind to use Verify and Rebuild data file tool in QuickBooks.
You may also see: How to Troubleshoot QuickBooks Error 1335?
Common reasons behind using Verify and Rebuild in QuickBooks
Below are some of the reasons to use the Verify and Rebuild features:
Complicated errors in QuickBooks Desktop
The company file doesn't open
A disparity in the reports like invoices or bills that have negative value
When the Deposited payment displayed on the Payments to Deposit Window
You receive error pop-up when working in QuickBooks
When all the account is shown in Balance Sheet
Lists have missing names
There are missing transactions data
A well-data check-up should be made to ensure that the company file doesn't have any error
QuickBooks automatically crash when you click to save a transaction
Read Also: How to Fix QuickBooks Error 6000 77?
Steps to Verify and Rebuild Data File in QuickBooks
Below, we have given some important steps to verify and rebuild the data file to fix the corruption and data damage in QuickBooks desktop.
Firstly, choose "Window" then "Close All".
Now verify Data…! For this, choose "File" then "Utilities" and finally "Verify Data".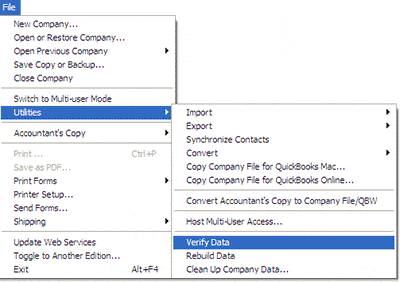 If you notice:
QuickBooks doesn't find any problems with your data, then you do not have to take any action.
If you notice specific technical glitches then look for the related articles in the QuickBooks Desktop support sites as there are many articles available.
If you find that your data has lost its integrity, then there will be damage in the file. And in that case, you have to follow the below mentioned steps to Rebuild Data to resolve the issue.
Rebuild Data: First, choose the "file" then go to "Utilities" and then "Rebuild Data".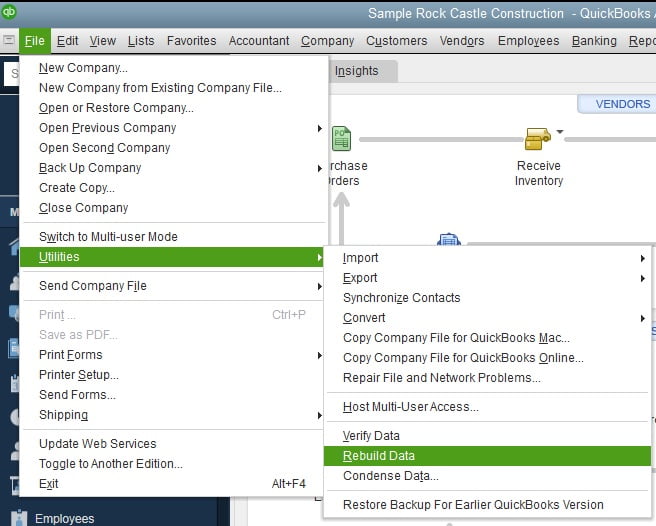 After this, you will get a warning message displayed asking you to take a backup of your company file and for this click on 'OK' button.
The rebuild data needs a backup of company file in advance because at times the whole process may have to delete transactions, list entries or have to fix the file. Taking a backup of your company file will make sure that you have a copy of your company file before any modifications done to it.
Choose the location where you want to save your backup file and then select OK which is at the bottom of QuickBooks Desktop Backup Window.

In case, no messages saying if you should replace another backup file then, click on NO. Provide a new name to the File Name field and then save
If the backup fails, then choose CANCEL at the Rebuild prompt and for assistance reach out to Payroll support.

When the backup finished the Rebuild Data utility starts.
Once you get message Rebuild has completed. Click on the OK

To check the remaining data damage run Verify Data. Select the file then go to "Utilities" and then "Verify Data".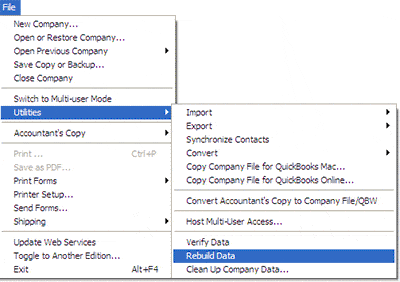 If the process of verification finds more damage then, it needs to be fixed manually. So look for the error in the log and find a solution in the QuickBooks Desktop support sites.
In case, you cannot find any error – you can attempt to restore the recent backup. Select file, the go to Restore but ensure that you do not overwrite your existing company file. If you added any information to the company file after the back up, then you have to add them manually and then restore.
If you still have queries about this then, you can seek assistance from the payroll support that will provide you with all necessary information.
Read it also: How to Fix QuickBooks Error -6000, -82 or -6000, -106?
How to Fix Data Error Manually to Resolve Rebuild QuickBooks Data File Error?
We already told you in this article how you can backup your company files. Once all the necessary and important files are backed up, you can verify all the error messages listed in the Verify Results window. Please consider contacting an expert if you are not comfortable fixing the error manually.
Tips for fixing errors using transaction record numbers
Record numbers help you discover errors that QuickBooks finds at the time when you verify your company file. If your file consists of any errors, you'll come across a link to open that QuickBooks.log file. This file will have the list of errors found in your company file.
Here is what you should do to locate your QuickBooks.log file:
Hold the command key on your keyboard and then select Go and Library.
Double-click the Logs folder and then on the QuickBooks.log file.
From the QuickBooks.log file, you'll spot record numbers mentioned as RecNum and RefNum. QuickBooks uses these as internal record numbers. For example, if you receive an error that reads "Verify Employee YTD Bal: YTD out of balance. Name = Jim R. Barrick Ref = 52." The record number in this case will be 52.
Click Edit and then Find.
Look for @recnum and enter the record number (in above case: @recnum 52).
QuickBooks will show you all records that consist of that transaction number. Go through the search results and modify or reenter the data in order to fix the problem. If the issue is still not fixed, contact Intuit Support team.
Read Also: How to Fix QuickBooks Error 6190 and 816?
Why QuickBooks Rebuild is Not Responding?
The "QuickBooks is not responding" arrives in the rebuild data process..! You have to wait and watch until the process completed.
Ensure that you verify full process during the verification process. If the verification completed successfully, repeat the process until the application checks the file for the existing messages.
Procedure to Monitor and Reduce the database fragments
Check out the steps given below to reduce the database fragments. At times, this happens that database has 10 or more database fragments. In such a case, it is necessary to reduce the database fragments.
Arrange List: From the list menu, you can resort the list option. With the help of list headers, resort the QuickBooks list. Thus, it will not put the same re-organization effect on the file. It's possible that some record does not show in the resort list section.
Rebuild File: Once you resort the file, use the rebuild procedure as prescribed above. To repair the risk of corruption, you can also use the rebuilt data feature.
Create Portable Company File: Creating portable company file is the easiest, simple, and preferred technique to reduce the database fragments. It helps to reduce the database fragments as well as re-index the database.
Run the Windows Defragmentation Utility: Run the Windows defragmentation tool on the hard drive where the application file/files are stored to reduce the risk of corruption.
Network and Maintenance Issues
QuickBooks usually used on the multi-user mode. That may lead to incorrect router configuration and low QuickBooks performance. The all factor add-on in increasing the risk of corruption. The network and maintenance issue occurs due to in the following combination:
Router not connected properly
Something wrong with Operating System i.e. OS related issues
Problem with the hardware or network driver
Corruption Occurred Due to Transactions
Delete and re-enter the transaction if the data file corruption occurred due to the transaction. For a specific transaction corruption issue, we recommend you to find out the document number in the report, then delete & re-enter the transaction. It might be possible that the balance sheet gets affected by this corruption.
Point to Remember
It's necessary to recover the damaged file/files. Hence, to recovers the damaged file & errors – switch to another recovery solution in case the QBW rebuild tool fails.
In case, you are unable to find out the persisting error in the QuickBooks file..! , restore it from the backup to resolve the issue.
Ensure that there is no overwritten company file.
Manual QuickBooks Rebuild Fails
If you encounter the issue of manual QuickBooks rebuild stops working, we assist to recover all types of corruption in the application. You can prevent this issue by check the unique and special features of QBW file repair service software.
See Also: How to Fix QuickBooks Error Code 3003?
Benefits & Advantages of QuickBooks File Repairs Tool
Here we are trying to endow the benefits & advantageous of QuickBooks file repairs tool best of our knowledge.
With the help of QuickBooks file repair tool, you can recover/retrieve all the components of the QuickBooks database file that entails paychecks & payroll financial records/transactions.
One of an impactful benefit of QB file repairs application is that it acts as an ample .QBW file recovery solution and supports the revival of manifold currencies. Due to this fact, this application is also known as QuickBooks repairs tool.
This software enables you to review all the recoverable components. Thus, you will get to know how to actually perform the recovery procedure correctly.
QuickBooks file repairs tool perform the absolute recovery procedure. This may includes Items & Services, job detail of the customers, vendor's job details, accounts charts, and customers transaction information.
In order to perform the QuickBooks recovery operation, the QuickBooks file(s) selection can be made from any user-defined location. In case, the location of the QuickBooks data file is unidentified or unknown, then from the tool panel QuickBooks repairs tool start searching & locating desired QuickBooks file.
For the future reference QuickBooks repair tool saves the log report(s). This log report entails every single inches of detailed information of each & every task that has been implemented for repairing any specific QB file.
It also supports all the previous versions of QuickBooks & QuickBooks version 2019.
QuickBooks file repairs service tool is highly compatible with the Windows 10, 8, 7, Vista, XP, Server 2003 & 2000.
Also Read: Steps to Fix QuickBooks Payroll Update Error 12152
Conclusive words..!
In a situation where you are encountering problems with the manual QuickBooks rebuild fails..! We can solve or recover all types of QB file corruption. You can directly contact us at our toll-free helpline number i.e. +1-844-405-0907. Our QuickBooks Support advisors are readily available 24/7 to help you.
If you need any other help or additional support, you can consult with our Intuit certified ProAdvisors from anywhere, anytime.
Articles you may also like:
How to Install, Update, and Set up the QuickBooks Database Server Manager?
How to Fix QuickBooks Error Code 3140?
Ways to Data Backup or Restore Files in QuickBooks Software
Some FAQs Related to Rebuild QuickBooks Data File
What is a QuickBooks data file rebuild and why do I need it?
A QuickBooks data file rebuild is a process of fixing any data damage within the file. It helps to improve the stability and performance of the QuickBooks software. If you encounter issues such as error messages, slow performance, or data corruption, a data file rebuild can help resolve these problems.
What should I do if the QuickBooks data file rebuild fails?
If the QuickBooks data file rebuild fails, it is advisable to contact QuickBooks support for further assistance. You can also reach out to our team of experts by calling our toll-free number +1-844-405-0907. Our team will help you diagnose the issue and provide a solution.
How long does a QuickBooks data file rebuild take?
The time it takes to complete a QuickBooks data file rebuild can vary depending on the size of your data file and the performance of your computer. On average, a data file rebuild can take anywhere from a few minutes to several hours.
Can I still use QuickBooks while the data file rebuild is in progress?
No, you cannot use QuickBooks while the data file rebuild is in progress. It is important to let the rebuild process run to completion without interruption. This will ensure that the data file rebuild is successful and that all data damage is fixed. If you need any assistance, don't hesitate to call our toll-free number +1-844-405-0907 for help.