Here is how you can spot and prevent QuickBooks errors and fix them with QuickBooks repair tools
QuickBooks is a bookkeeping and accounting software developed by Intuit Inc. If you have been using this robust software for some time, you would know how helpful it can be for small and mid-sized businesses. QuickBooks makes some of the most complicated business tasks simple, for example, making payments, creating invoices, preparing tax papers, etc. No wonder why it has become immensely popular among entrepreneurs and business owners.
Intuit also seems to have back up of a very strong research and development team. They have been introducing new updates, upgrades and features since the time it makes its presence felt in the business and earned the reputation of an incredibly easy-to-use software. However, like any other computer program, this accounting tool also receives errors and glitches occasionally. In this blog post, we are specifically going to discuss errors in QuickBooks company files, its causes, and solutions. Read on to know everything you may need to know about QuickBooks repair tool.
You may also like: How to Tackle QuickBooks Abort Error?
Identifying Corruption in QuickBooks company file
QuickBooks file corruption can be tough to spot. But once you know the issue and the reason, it will be easy for you to fix the problem. Knowing when the issue occurred and what were the last changes you made in your QuickBooks Desktop can be helpful.
Some of the most common QuickBooks company file errors are as follows:
In Verify Data Utility section you may see error report like – A data error prevents QB from continuing.
An error message pops up on your screen or the Qbwin.log file – Verify Target: Values in minor do not match major.
QuickBooks account names start with an asterisk (*) and created by QuickBooks because the original accounts were missing.
Your QuickBooks may abruptly shut down while saving or deleting a transaction.
Flawed balance sheets and other reports in which the total number of assets don't match the number of liabilities and equity.
Entries or transactions missing from lists.
QuickBooks takes longer than usual time to open and operations also are sluggish.
Paid invoices, bills and transactions show as unpaid. A negative balance shows in transaction history.
HTML code in Bug Report in Send Feedback online section.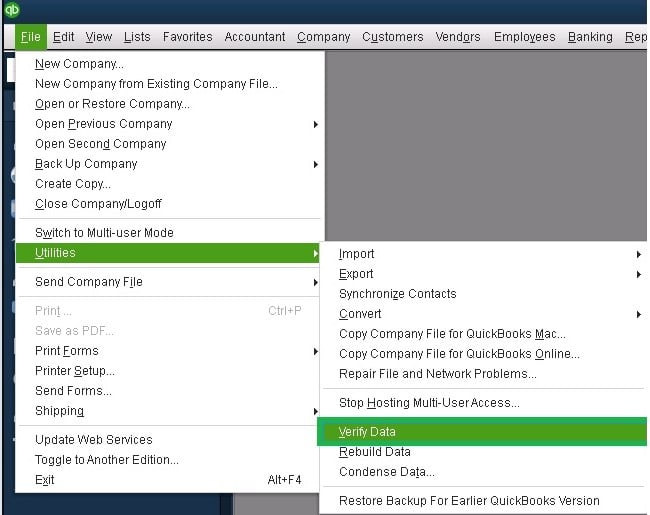 Identifying issues in QuickBooks is simple if you observe its working closely. Data damage and other errors may be of different types and symptoms may also vary, however, a strange data at any time could be a sign.
QuickBooks company data file corruption causes
Knowing the reason behind QuickBooks error can assist you in finding the solution to QuickBooks issues. The following reasons may cause data damage in QuickBooks.
The size of the QuickBooks file is exceeding the healthy limit.
RAM, network interface cards, Virtual Memory, routers, and other resources missing.
Fluctuating power causing damage in hard the drive in the absence of proper UPS.
The system wasn't shut down properly post last use and caused QuickBooks database corruption.
Virus or other malicious software infected QuickBooks database.
There may be more reasons than provided here to cause damage in the QuickBooks company file.
How to Prevent QuickBooks company file corruption?
It's better to stop a QuickBooks error from occurring than finding a solution later. Here are some of the most dependable tips to avoid corruption in QB company file.
Creating backups of your company file and keeping them at different locations is one of the best tricks to prevent data loss and damage.
You can also create an online backup of your data to keep from losing physical backups.
Make sure that the size of QB database doesn't exceed the healthy limit. You can reduce the size of the database with the help of third-party tools.
Avoid all the other reasons that cause data corruption.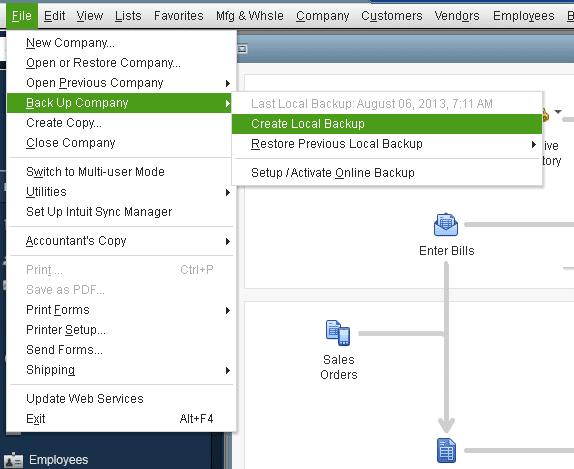 See Also: How to Record Vendor Refunds in QuickBooks Desktop?
QuickBooks repair tools to Fix Errors
As discussed above, QuickBooks users may receive different types of issues and errors. Though a few of the errors may be prevented from occurring, it's not uncommon for users to still receive them. Since QuickBooks is an innovative accounting software, it comes equipped with many inbuilt features and tools that help fix many of the common errors.
Some of the most popular QuickBooks desktop tools are:
1. QuickBooks File Doctor tool
QuickBooks File Doctor tool has to types:
Built-in file doctor, which is available in all QB 2016 and later versions.
QuickBooks File Doctor stand-alone version, which can be downloaded from the internet.
QBFD is useful in fixing a wide selection of file and data corruption issues, network setup errors, and windows setup errors.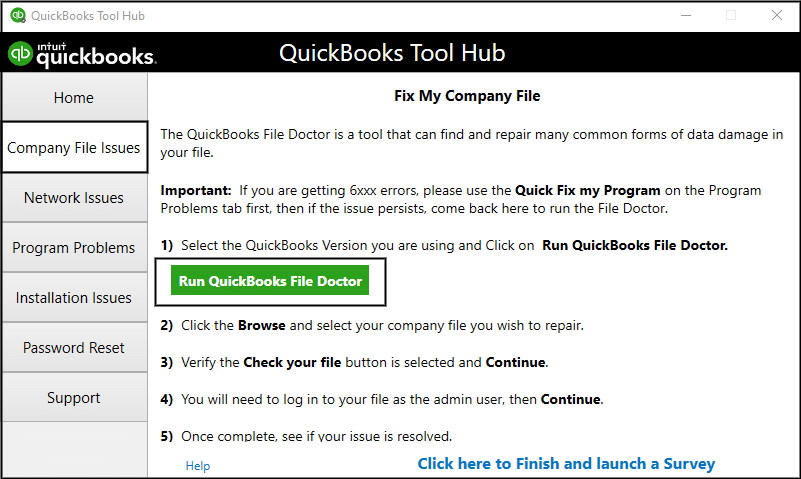 2. QuickBooks Component Repair tool
This QuickBooks component repair tool assists users to solve those issues that prevent QB software from running. This tool helps in reducing the costs and improves customer satisfaction. The steps involved in downloading and using the component repair tool are as follows:
The first step is to download the tool and close all programs running in the background
After that, click on the download button on the QuickBooks component repair tool setup file
The next step is to double click the file to open and perform the onscreen steps to complete the installation process
Restart the system and run the tool.
The user is then required to reboot the system and close all programs
Now, the tool will diagnose the issues and perform any necessary step
Wait for the tool to perform the required steps
Once again reboot the system and you are done.
3. QuickBooks Diagnostic Tool
QuickBooks Install Diagnostic tool can diagnose and repair multiple problems, especially those related to Microsoft .NET Framework, MSXML, and C++.
One can run the QuickBooks install diagnostic tool using the steps below to fix the issue permanently. Let us have a look:
The first step is to close all the QuickBooks related programs
After that, install QuickBooks tool hub from the official intuit website
Now, open the program by simply double-clicking the icon
The next step is to click on the installation issues tab
Choose the QuickBooks install diagnostic tool
Note that, this might take some time
The last step is to reboot the system when the issue gets resolved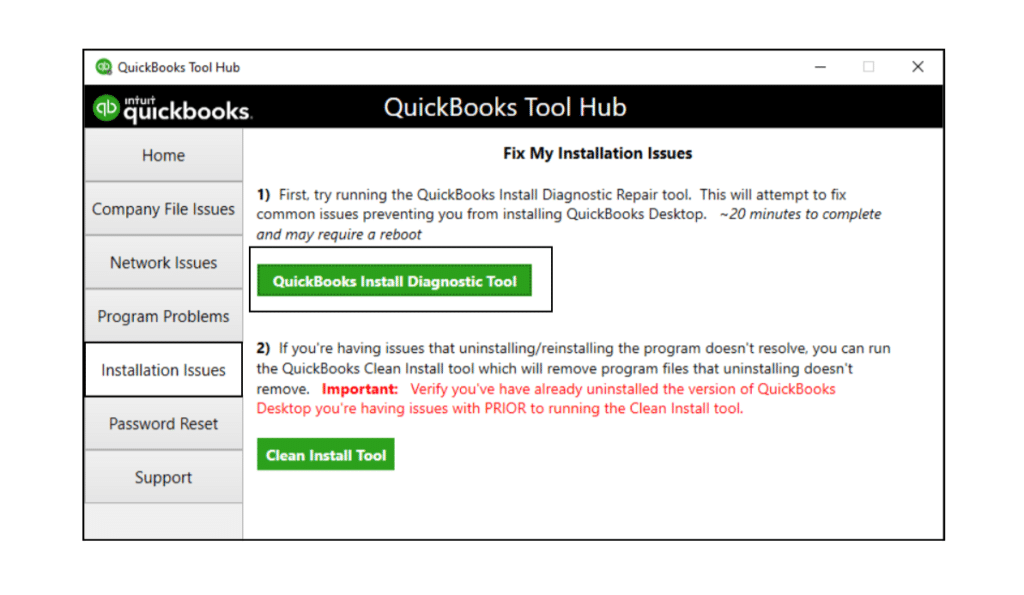 4. Reboot.bat
Reboot.bat is a useful QuickBooks repair tool that assists users to re-register an assortment of QB related components with MS Windows.
5. Connection diagnostic tool
This tool can be accessed using the tool hub
Or one can directly install it from the Intuit website
After that it is recommended to save the .exe file from the setup file to the desktop
And then download and install it
Once done install process ends, double click the icon and perform the instructions that show up on the system
Run the installation tool next and delete all executing programs
After the tool detects the error, shut down the application and reboot the system
You may also read: How to Fix QuickBooks Error 6000?
Winding Up
All the above-mentioned tools are free and help solve a wide variety of errors. Many of the times, they show up themselves when a problem occurs. But if they don't automatically appear on the screen, you can use them manually. Please ensure that you are using the latest version of them to fix QuickBooks errors.
While QuickBooks repair tools can help you to fix many of the common QB errors, they can't fix all issue. If you are unable to get rid of a QB error with the help of free diagnostic and repair tools, you can contact our QuickBooks support experts at 1-844-405-0907. With cutting-edge tools and technology and years of experience, we can help you fix all QuickBooks-related issue.
Frequently Asked Questions!
How do I repair QuickBooks desktop?
One can try to repair QuickBooks by using the Quick Fix program. It'll run a quick repair on your program. For this, you can use the QuickBooks Tool Hub, choose Program Problems and then go for Quick Fix my Program. Also, start QuickBooks Desktop and open your data file.
How to uninstall QuickBooks desktop?
To uninstall QuickBooks and repair it, the below steps can help.
1. At first, open the Windows Start menu.
2. Now look for Control Panel and then open the same.
3. Choose Programs and Features or Uninstall a Program.
4. From the list of programs, choose the version of QuickBooks Desktop you want to remove.
5. Lastly, choose Uninstall/Change, Remove and then Next.
How to rebuild data in QuickBooks?
The user can rebuild data in QuickBooks using the steps below:
1. The first step is to choose file
2. After that select Utilities.
3. Also, go for the Rebuild Data.
4. And then, choose OK to close all windows.
5. QuickBooks will ask to make a backup before rebuilding your company file, select OK
6. Once the rebuild is finished, select OK.
How do I fix errors in QuickBooks?
The user can try to eliminate the issues by performing the steps related to every issue. One can simply connect with the QuickBooks support team for any sort of further technical assistance.
Few other helpful articles
How to Resolve QuickBooks Error 15241?
How to Troubleshoot QuickBooks Error 108?